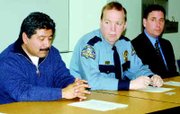 The Lower Yakima Valley has been named one of the top 100 communities for young people by America's Promise for the second year in a row.
Sunnyside's Promise Chairman of the Board and Police Chief Ed Radder said he'd like to see a third-year win, with the entire county bestowed the honor.
Radder said that collaborations between communities, organizations and individuals was key in being named one of the best communities for youth. He said he expects that to expand even further. With the recognition, he said, "More people are looking at how to work and collaborate together."
According to Louisa Erickson of the state's Community Economic and Trade Development, America's Promise has three goals in terms of national focus: health care for all children, curbing the national dropout rate and helping underserved children whose parents are either incarcerated or children who are in foster care.
Two cities have been given Building Bridges grant funds, Grandview and Toppenish, that will address dropout rates in schools in those cities. Being named one of the top 100 communities for youth will open the door for even more grant funding in the future.
Radder said that while it's important to deal with negative behavior from youth in the area, it's equally important to focus on positive behavior.