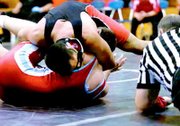 It was a night for the record books.
The Sunnyside High School wrestling team clinched its first outright league title in three years, and two of its athletes made history last night.
Sunnyside knocked off the only 3A Columbia Basin League team left in its path, West Valley, with a 48-24 win before a packed home crowd on Thursday.
The regular season finale win was the 11th straight victory for the Grizzlies (6-0, 11-2) and also assured them another year of owning the rock which goes each year to the winner in the West Valley/Sunnyside rivalry.
Though the Rams were within 25-24 at one point, Sunnyside again pulled away with dominating performances in the lighter weight divisions.
That included a pin recorded by senior Isaac Romero (119 lbs.), which tied the Yakima Valley record for career wins. Romero should break the record once the postseason gets underway.
Romero's freshman brother, Josh (126 lbs.), then wrapped up the night by setting the school record for most takedowns in a season (104). He prevailed with a football-like score of 28-12 for a technical fall victory.
A third Romero brother, Steven, recorded a first-round pin at 112 lbs.
In the previous match, at 103 lbs., junior Christian Reyes pinned his opponent to start Sunnyside's 23-0 run that turned a tight contest into a rout.
"It's great to have four wrestlers in a row like that who pin and win," said Sunnyside Coach George Paulus.
That's not to say there weren't some tense moments last night.
At 160 lbs., Sunnyside's Andrew Swinehart appeared to hold his opponent, West Valley's Eddie Reeves, to just a decision. But with three seconds left Swinehart was pinned to trim Sunnyside's lead to 16-12.
The tide turned in the Grizzlies' favor at 171 lbs., though, as Jesus Mendoza rallied from a 3-0 deficit in the final period to pin Shea Smart with just 35 seconds left in the match.
Sunnyside then lost the next two matches in tough fashion, as Jose Barajas (215 lbs.) had to default after re-injuring a knee that had him out of action for much of the season.
At 285 lbs., Sunnyside freshman Adam Peters had a 2-0 lead and appeared on his way to a pin before his opponent, Brad Overand, reversed momentum and recorded a pin to get the Rams within 25-24.
Sunnyside opened with a 13-0 lead after victories by Shawn Olivarez (130 lbs.), J.T. Gonzalez (135 lbs.) and Baltazar Avalos (140 lbs.)
Also in the winning column for the Grizzlies last night were Danny Alvarez (152 lbs.) and Danny Almeida (189 lbs.)
Sunnyside now gears up for the postseason, starting this Saturday with the JV qualifier at Hanford. The top four in each weight class advance to Subregionals at Kennewick on Feb. 1-2.
With Sunnyside's riches in the lighter weight classes, Paulus said Reyes, dominant all year at 103 lbs., will wrestle in the JV qualifier so the three Romero brothers can all move down a weight class.
The result, Paulus hopes, is that Reyes will wrestle all the way to the Regional finals at 103 lbs. against Stephen Romero-who wrestled at 112 lbs. last night even though he only weighed 103 lbs.-assuring Sunnyside of having both wrestlers advancing to State in that weight class.
Paulus said the record-setting Isaac Romero and fellow senior J.T. Gonzalez have been key inspirations this year in driving the Grizzlies to league perfection.
"They work hard and they don't complain," he said. "They do what you ask them to do."
Of the older Romero brother, Paulus added, "For four years he has provided an example to others. They know what commitment is all about."