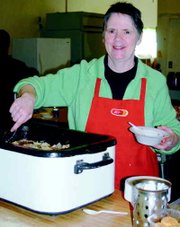 This year's homeless survey in Sunnyside, as part of a county-wide study, brought a few surprises, but that's nothing new.
That's according to Sunnyside site supervisor Suzi Carpino, who is in her third year of helping with the homeless count.
Last year, Carpino was in charge of the program as well. As a result, four lottery housing vouchers were dispersed in the Lower Yakima Valley. That was a first for the area.
Carpino said it's also surprising that society doesn't fully understand what homelessness is, saying it expands beyond sleeping in cardboard box or a vehicle. She said there are people living in garages and outbuildings, or simply staying at a home with other families where there is no rental or lease agreement.
"When it comes to shelter, you've got to take what you can get," she said. "People who double up in homes don't have a guarantee they can stay there the next night."
Based on her previous experience, Carpino made sure to have a resource table available for those who participated in the study yesterday (Thursday). But there were things she hadn't thought of, too. One gentleman asked if it was possible to get a haircut voucher, as he knew where to get cleaned up for a job interview but had no money for a haircut.
Another surprise was how many people considered homeless wanted to know how they could register to vote. Thankfully, said Carpino, she had a volunteer this year that just happens to work at the county courthouse that helped with that.
Another vexing subject is identification cards for the homeless. "It's quite a production to obtain an ID without an address," said Carpino. Difficult, but not impossible, she added.
Carpino was also impressed with her volunteers this year. She was surprised with the amount of students who trekked to the staging area at St. Joseph's Catholic Church parish to participate on their lunch hour.
This included students from Mabton eyeing a future in social work. It also included students from Sunnyside, one of whom plans to collect teddy bears and become a mentor for one little girl considered homeless that she met yesterday at the survey.
"That was such a positive view into where the hearts of our kids are," said Carpino.
Carpino said the actual numbers from the survey won't be tallied until about mid-February.