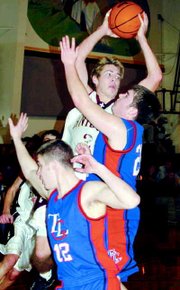 The Sunnyside Christian High School boys basketball team rolled to a 30-9 first half lead on the way to a 56-28 drubbing of Trout Lake/Glenwood last night.
"We just jumped out early," said Sunnyside Christian Coach Dean Wagenaar. "We have some good matchups and took away their offense."
The Knights jumped out to a 16-4 first quarter lead in the home Greater Columbia 'B' League tilt. Joel Koopmans sparked the fast start with eight of his game-high 17 points in the first quarter. Teammate Jason Friend scored four of his six points in the opening stanza.
Wagenaar started substituting liberally early in the third quarter after the Knights built a 37-11 advantage.
Sunnyside Christian cruised to the win despite missing two players, Danny Van Boven and Jordan Vogel, due to illness.
Wagenaar praised the defensive play of Steven Broersma and Marc De Jong in holding Trout Lake/Glenwood scoring threats Dannon Kavanaugh and Alex Whitefield to just eight and seven points, respectively.
"He's a good three-pointer and Marc kept him from spotting up," Wagenaar said of De Jong's defense on Whitefield.
The coach said the Knights stayed in a man-to-man defense throughout the contest.
Koopmans added six assists and four steals to go with his 17 points, while Sunnyside Christian teammate Matt Crabtree went for a varsity career-high 10 points.
Broersma, a 6-5 freshman, and Friend, a 6-6 senior, led Sunnyside Christian in the paint with eight and seven rebounds, respectively.
"It was a good game, but we still have too many missed free throws and layups," observed Wagenaar.
Sunnyside Christian (8-0, 11-3) will look to fine tune its attack with a pair of tough contests ahead. The 1B Knights travel to 1A Wahluke today, Friday, for a non-league game. On Saturday Sunnyside Christian, ranked second among State 1B teams, travels to Riverside Christian, which is ranked second among 2B teams.
Since both are undefeated in league play, the contest should decide the regular season champion of the Greater Columbia 'B' League.