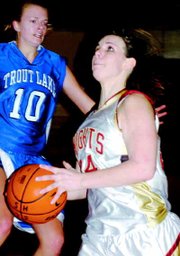 The Sunnyside Christian Lady Knights defeated Trout Lake Glenwood at home last night (Thursday), 52-26.
Despite the win, Sunnyside Christian Coach Al Smeenk said he was disappointed in how the Lady Knights played. "Collectively, it was a poor game," said Smeenk. "Last night was probably our worst game of the year. Hopefully we got it out of our system."
Smeenk said the Trout Lake Mustangs came out far more aggressively than they did the first time they played the Lady Knights. In that game, Sunnyside Christian won by 47 points. The Lady Knights were up only by six points going into the half.
Last night, Smeenk said the Lady Knights missed numerous easy shots, but he was impressed with rebounds. "We out-rebounded them 38 to 21 and 18 of those were offensive boards. That, I was impressed with," said Smeenk.
Lady Knight Melanie Van Wingerden notched a double-double, scoring 17 points and collecting 15 boards. Teammate Andrea Schutt scored five points and had 10 rebounds.
Sunnyside Christian (7-1, 12-2) next plays Mattawa tonight and Riverside Christian Saturday night.