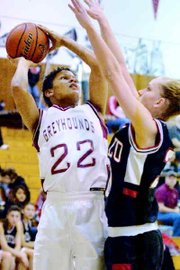 GRANDVIEW - The Grandview High School girls basketball team hosted two of the top squads in the CWAC South this past weekend and lost both contests.
On Friday the girls tried to rally from a 40-22 deficit against visiting Othello, but came up short in a 73-57 loss.
"We wanted to be able to play a man-to-man defense with keeping our players in front of us and not letting them penetrate into the key for easy lay-ins," said Grandview Coach Paul Van Pelt. "At times we did a good job of that and other times we were lazy and let them go by."
Grandview found some success in the third quarter with a 17-11 run, but it wasn't enough to stop the hot-shooting Huskies.
"In the second half we tried to do some zone defenses, but they were hot from the outside and seemed like they hit every shot they put up, so we could not stay in those zone defenses for very long," said Van Pelt.
For the contest, Othello shot 45 percent from the field and outrebounded Grandview 48 to 40.
Kinzi Poteet led Grandview with 22 points, eight rebounds, three assists, three blocked shots and one steal. Teammate Anna George added 17 points, nine rebounds and three steals. Adding some pop from the perimeter for the Lady Greyhounds was Jessica Lopez with 16 points.
Christine Kirkwood led Othello with 19 points.
On Saturday, the Lady Greyhounds again found it tough sledding at home, as Grandview lost to East Valley 64-39. The visiting Red Devils jumped out to a 20-8 first quarter lead and never looked back.
"Our lack of defense was the major key to the game," said Van Pelt. "We let them have any shot they wanted and their shots were wide open."
The Red Devils were especially hot from three-point land, canning 6-of-10 attempts from downtown for the game.
East Valley also cleaned up on the glass, outrebounding Grandview 45 to 20.
"We tried man to man, zones, no matter what we threw at them they had an answer with a score," Van Pelt observed. "We were able to get more girls scoring points, we just did not get enough of them."
Poteet again led Grandview with 14 points, six rebounds and six blocked shots. Lopez added eight points to go with four steals.
Michaela Huck led the Red Devils with 20 points.
The losses drop Grandview to 3-9 in CWAC South play and 5-9 overall.
The Lady Greyhounds hit the road this Friday for another league contest at Ellensburg. Van Pelt said his team needs to get its fire back as it hits the homestretch of the regular season.
"We are going to get across to the girls that they need to play with that intensity, and that desire to want to work on both ends of the floor," Van Pelt said. "We must continue to play hard and play through adversity."
The coach noted it's also about teamwork.
"We need our shots to fall, and we need to work and take pride in our defense," Van Pelt observed. "On those nights when we are having struggles offensively, our defense is going to keep us in some of these closer games."