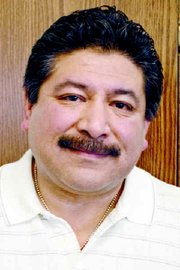 Paul Garcia is Sunnyside's first Hispanic mayor, but that's not why his colleagues on the city council named him to the post earlier this month.
"I think it's a good thing, but it so isn't the reason we selected Paul," says Councilwoman Theresa Hancock. "It's much more than that. We picked Paul because he is such a quality candidate. He's very intelligent about how he makes his decisions."
Garcia, who works in quality assurance for Areva NP, Inc. of Richland, first became involved in city government when he and other Saul Road neighbors expressed concern about a proposed development of 59 houses.
Based on that interaction, Garcia said he was asked by then-Mayor Ed Prilucik to serve on the city planning commission. That was followed by appointment and election to city council.
The rest, as they say, is history.
"Obviously I'm very proud of the achievement," Garcia said of being Sunnyside's first Hispanic mayor.
But Garcia sees his role as much more than about race.
"I don't want to be defined by that in looking back," he says. "There are a lot of things we need to get done and involve the entire community."
Hancock and Garcia both graduated from Sunnyside High School in 1976 and both were on the list of nominees to fill a vacancy on the city council. "I was so thrilled when he was selected over me," she said.
Garcia's appointment to mayor may also increase the Hispanic population's involvement with the city and community, Hancock feels. "Hopefully it will bolster the Hispanic community's involvement," she said. "It would be a double bonus. We have a really quality mayor and he just happens to be Hispanic."
Bill Gant was Garcia's sixth grade teacher. Gant also sits on the city council and was part of the unanimous decision appointing Garcia.
"He's a neat kid," Gant said. "He's kind of quiet, pretty serious. It doesn't surprise me a bit what he's doing. He's a good young guy who just happens to be Hispanic."
Jesse Hernandez Jr. is a financial advisor for Waddell and Reed, and President of the Sunnyside Chamber of Commerce. He serves on a committee that includes Garcia and Hancock which focuses on increasing citizen involvement, especially among the Hispanic community.
Garcia's new role as mayor may help increase that involvement, Hernandez feels. "There may be a possible impact for voters more willing to do their part. It's a good, positive move."
Hernandez said he especially appreciates Garcia's patience in making decisions.
"He's not a guy to jump to conclusions," Hernandez noted. "You need to have someone willing to slow things down a little bit, to take the time and have a better outcome."
The chamber and city hall have developed a good working relationship, Hernandez says, and he sees that spirit continuing with Garcia. Some of that cooperation has been providing electrical outlets for street vendors and allowing Cinco de Mayo activities to be held in Central Park. "Those may seem like little things but they really help the chamber," Hernandez noted.
Miguel Puente is on the Sunnyside School Board. He, too, sees Garcia's new role as a plus.
"I'm pleased to see Sunnyside take the role of mayor a lot more seriously," Puente said. "Some of this momentum was established by the previous mayor (Prilucik)."
Of Garcia, Puente noted, "He's a thoughtful person. He puts the city's well-being at the forefront."
Puente added, "It's more than his ethnicity. It's his leadership style. More than anything, people want to see quality in leadership."
While he hopes Garcia's appointment will increase participation by Hispanics in city government, Puente noted, "It doesn't hinge on ethnicity and race, but just having effective leaders and listening to the patrons."
Garcia takes over the mayor's seat during a pivotal time in Sunnyside political life as council needs to recruit and hire a new city manager.
Next month, the city council will also renew a discussion about creating districts for city council seats. It's an idea that was generated by a college report identifying Sunnyside's seven at-large council seats as a hindrance to electing Hispanics.
"We have a lot on our plate," Garcia smiled as he pondered the agenda that lay ahead for council.
He insists that it's going to take more than just setting up geographical boundaries for city council candidates.
"That alone is not going to increase Hispanic participation," Garcia says. "It's part of a larger effort to educate and find out why people don't vote."
Like others, Garcia sees a possibility that Hispanic participation might increase now that he's in the mayor's chair.
It also helps that he's conversational in the Spanish language. Garcia said he'd like to brush up on his Spanish language skills, but the fact that he can hold down a conversation means he'll be able to give an ear to comments he may receive while out and about in the city.
Garcia said language will be a bonus when Spanish speakers address council. He noted that translation services provided at council meetings present the words a person is speaking, but not always the heart and emotion behind them.
Again, though, it doesn't come down to race or language for Garcia.
When the history is written about his time on council and as mayor he doesn't want it to be just about making history as the first Hispanic mayor.
"I'd like to be remembered for my leadership as mayor and a council member," Garcia observed. "That I kept moving Sunnyside forward in a positive direction. That's our goal."