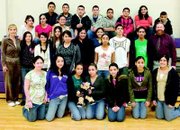 MABTON - Mabton Jr. High students Danysha Salinas and Celia Diaz recently came up with an idea they hope just might change the lives of some people.
Salinas and Diaz decided to buy a stuffed bear and send the animal to other AVID classes in Washington to encourage the exchange of ideas.
Diaz said she and her classmates were reading a book with stories in it dealing with teenage issues and ideas of how to deal with them. One of the ideas had to do with a bear and Salinas said an idea came to her.
Why not send a bear to all AVID classes.
AVID stands for Advancement Via Individual Determination and is a program designed to help underachieving middle and high school student prepare for and succeed in colleges and universities.
Students in the program commit themselves to improvement and preparation for college by completing a rigorous program of instruction in academic survival skills and college level entry skills.
Seventh grade AVID teacher Julie Urrutia liked Salinas's idea but challenged Salinas and Diaz to come up with a purpose to what this idea would serve.
"I thought it was a great idea," said Urrutia. "This has the potential to change lives."
Urrutia solicited suggestions from other AVID teachers at an AVID conference and then relayed those to Salinas and Diaz.
It was decided to name the bear Diva, AVID spelled backwards, and send the stuffed toy from class to class. At first the students envisioned Diva going around the United States but time constraints limited the bear traveling to just Washington and Oregon this year.
As Diva goes from class to class, she will stay for two weeks and the AVID class Diva is with will complete a community service project.
Urrutia explained each class can pick a community service project of their own or take advice from the Mabton Jr. High AVID students. Mabton AVID students spent time with fifth and sixth graders at Artz-Fox Elementary School in Mabton speaking about social issues and life at the junior high and promoted AVID classes for their service project.
Diva will also lead a socratic seminar lesson for each AVID class. This is where students share thoughts and ideas on hot topics in a respectable and adult way. Each student will only be able to share their ideas if they have the bear in their hands.
For example, the Mabton seventh and eighth grade AVID classes discussed whether parents should be responsible if their children get in trouble.
Each AVID class Diva visits will also complete a writing assignment.
Diva's first stop will be in Kent and after traveling around will be back in Mabton near the end of May. With her will be a scrapbook and journal from each class the bear visited. The Mabton classes will then view the comments and look to see what happened, how Diva changed the other classes.
Urrutia said next year the AVID classes are looking to add a male bear to the mix. By having two bears the classes will be able to cover more ground and add more schools to the rotation.