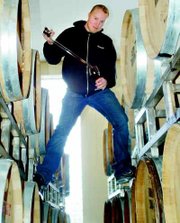 Working in a winery was far from what Ryan McKenzie of Cream Wines of Yakima envisioned for himself while attending Portland State University.
McKenzie was a business communications major at Portland State University when he began working part-time for Owen-Roe wineries. He found the work and his relationships with his co-workers to be satisfying, which led to his current position with the company's Sunnyside facility, known as Cream Wines of Yakima.
As the logistics manager, McKenzie said he keeps busy, especially during the grape growing season and harvest. He travels to vineyards throughout the Yakima Valley and Columbia Basin. "We even have vineyards in The Dalles," he stated, saying the Sunnyside operating facility processes grapes from more than 20 vineyards.
"I collect grape samples of the varietals from blocks for analysis," McKenzie said.
When sampling the grapes, McKenzie analyzes the ripeness and sugar content of the different grapes, assessing a proper balance between the physical attributes and the taste of the grapes sampled.
Once McKenzie determines the balance meets pre-set criteria for a particular variety of wine, he said he determines a proper harvest date and arranges a window for either a machine or hand-pick harvest.
"I would say the hardest part of the job is finding the balance in coordinating efforts between those harvesting the grapes and those who have the machinery we use," McKenzie stated.
Once the grapes have been harvested, McKenzie ensures the processing method to be utilized. He said Cream Wines of Yakima processes grapes utilizing two methods...a hopper or hand sort.
He stated, "We may be able to bring the grapes in, but we need to process them according to a schedule and/or the availability of a time slot."
McKenzie said another factor that must be considered when scheduling the harvest of particular vineyards is the weather. "Rain dilutes grape sugars and the ph," he noted, stating that rain can change the sugars and ph levels aimed for in a particular variety.
As to his reason for remaining with Owen-Roe and Cream Wines of Yakima, the Springfield, Ore. native said he thoroughly enjoys working for the company. He said the company and his co-workers have been "fabulous" to him and he sees growth potential within the company.
"You never know how my business communications skills might be utilized," McKenzie added. "This is a company that believes in community involvement."