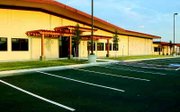 EAST WENATCHEE - It was a long time coming, but Eric Berg finally got his first win as the Sunnyside High School girls basketball coach.
The Lady Grizzlies earned their first win of the season last night with a 51-47 victory at Eastmont. The win snapped a 36-game losing streak for the girls basketball program.
"Our defense stepped up and we had a great team effort," Berg said of the win, in which Sunnyside took control with a 30-10 run over the second and third quarters after trailing 15-6 in the opening stanza.
Berg said his team received a boost in the second quarter from reserves Megan Tyler and Victoria Ramos, who combined for 11 points for the game.
"They played a key role in the second quarter," Berg said. "Their minutes were invaluable."
Up by 11 entering the fourth quarter, Sunnyside had to scramble to fend off the Wildcats.
Eastmont got as close as three points, but had to repeatedly foul in an attempt to slow down Sunnyside.
The Lady Grizzlies iced the game at the free throw line, canning 8-of-10 attempts from the charity stripe in the fourth quarter.
Berg said Eastmont used a full court press to start the game, but after Sunnyside adjusted the Wildcats had to try other strategies.
Eastmont again employed the press in the fourth quarter in an attempt to close the gap. This time Sunnyside was ready. "The girls handled the pressure pretty well," observed Berg.
Sunnyside (1-7, 1-15) was led by Kayla Rollinger's 12 points. Teammate Alexis Ramos dished out a team-high seven assists
Sunnyside held the CBL's leading scorer, Eastmont's Brooke Randall, to just 12 points. Berg praised the play of Katie Wutzke and Alexis Ramos in corraling Randall.
The Lady Grizzlies will try to keep the momentum going this Friday, when they host Hanford.