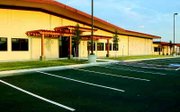 GRANDVIEW - Two wineries have partnered with Yakima Valley Community College's Grandview campus to utilize the viticulture center in the Workforce Education Center.
According to Trent Ball, the Agriculture Program Chair at the Grandview campus, Prosperity Wine Cellars, owned by Rita Jorgensen and Bryan Eglet, and Parejas Cellars, owned by Mark Wysling, will create their wines by using the vit center's facilities.
"It's a partnership between them and the college in the sense that this fall, we're all going to use the same equipment for crush and press," said Ball. "The juice will (then) be transferred to their spaces for fermenting. They have their own bonded spaces inside the facility here."
Ball said the college's goal is to partner students with the business owners in several different ways. "We try to keep students involved in whatever (the businesses) are doing and offer help along the way," said Ball, adding that this helps create internship opportunities for the students.
And, he added, "It's a unique opportunity for the businesses because at the time they are starting up, they get additional help. It's great for students because they get experience right at their back door."
This semester, the vit center is the site of a "Wines, Vines and Dollar Signs" class and part of the focus is marketing. Ball said the students are going to dabble in designing a label for the college's wine, as well as come up with a marketing plan for the college's participation in Spring Barrel.
Students will also be working on conceptual marketing ideas for Parejas Cellars.