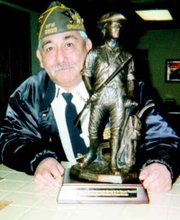 The last thing Grandview VFW Post 6929 members were expecting when they took part as Lower Valley honor guard members at a freedom celebration earlier this month hosted by the National Guard 790th Chemical Company was to be singled out for basically adopting the unit, which is based out of Grandview.
"We took them under our wing," explains Honor Guard and longtime Grandview post member Don Pierce.
For their efforts, the post was given a two-foot tall bronze minuteman statue.
Pierce explained that a minuteman dates back to the Civil War era. Minutemen were trained to be the first in line to battle on a moment's notice. "No matter what they had to do, they were the first ones out to fight," Pierce said.
When the 790th was deployed to Iraq, the Grandview VFW, ladies and men's auxiliaries and AmVets all banded together, vowing to adopt each and every soldier.
Members associated with the post raised money for holiday packages, sent money the soldiers used for a cappuccino machine and, as Pierce put it, "What they needed, we'd send it."
Ladies Auxiliary Chaplain Louise Bianchi said that during the year the unit was overseas, she couldn't help but become attached. "I've gotten really attached to them. They have been like my own kids," she said.
That was enough to bring Bianchi to tears during the presentation of the minuteman statue. "That was the most surprising thing. I started to cry," she said.
It's an effect that ripples throughout the post. Even Post Commander Domingo Ramirez was at a loss for words.
Recalls Bianchi, "When Mingo accepted that, he had tears in his eyes. It's the first time I've ever seen him speechless."