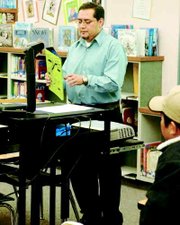 Approximately 40 parents attended a meeting held at Chief Kamiakin Elementary School this past Tuesday night to learn how to spot signs indicating their children might be involved with gangs.
More than half of the parents in attendance thought Sunnyside has a problem with gangs.
Charlie Diaz, an assistant principal at Sierra Vista Middle School who has done several presentations on gang awareness, mentioned the recent death of a 16-year-old male in Grandview and the shooting of a 14-year-old boy in Sunnyside.
"We need to have an awareness of what gangs are in our community," he told the parents at the meeting.
Diaz and Chief Kamiakin Elementary School Assistant Principal Tavis Peterson showed parents items confiscated from students that could be a warning sign.
Diaz showed parents clothes that gang members could wear to show their allegiance. Blue and red are the preferred colors for most gangs in the Lower Valley and Diaz said a red t-shirt, coupled with a red bandanna or red shoe laces, could be used to show someone is in a gang.
Gang graffiti written on a student's school books or folders is also a warning sign. Even belt buckles are now being worn with the initials of individual gangs.
Peterson said these types of signs have been seen at Chief Kamiakin but are not very common. He said most of the students at CK who have been involved with these types of things have an older sibling that is involved with gangs.
He said he saw a third grade student writing an S in a way gang members write the letter. He took a book from a fourth grade student who had drawn tears drops on a picture of Martin Luther King. Just the other day a fifth grade student who was dressed in blue caught his attention.
"I mentioned to him he was dressed all in blue and he told me he wasn't in a gang," Peterson recalled. "I told him that's not what I was thinking, but what if someone all in red saw him, he could be in trouble. It was then he told me his older brother was in a gang and his brother claimed the color blue. This is just another example of influence."
A parent asked what the school does when they see behavior like this. Peterson said a parent meeting is usually set up and if school rules have been broken, some type of discipline will be handed out.
Diaz said the number one thing to do as a parent is to maintain open communication with the child. Reporting gang activity when seen is also very important. A parent should never jump to conclusions but instead talk with their children and get the whole family involved.
"It's important to say that within our schools we have got some great kids," Diaz said. "We have some problems but the majority are great students."