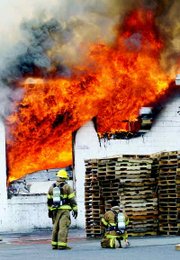 GRANDVIEW - A blaze that started this morning (Tuesday) shortly after 9 a.m. at Grandview's Wind River Foods processing plant drew valley firefighters from as far away as Yakima and Union Gap.
According to Grandview Deputy Chief Dave Smith, the fire began in an electrical panel in the plant's engine room.
As large crowds gathered in downtown Grandview to watch the plant burn, fire quickly spread from the east side of the building to the west, which faces Grandridge Avenue.
"It sounded like big fireworks," said a plant employee, who refused to give his name. "They tried to cut the power, but there was still power coming from somewhere."
Grandview City Administrator Scott Staples said, "They're saying (the fire) is out of control. It's likely the whole building will be lost."
Wind River Foods is a significant source of the city's income.
According to Grandview Deputy Treasurer Elizabeth Alba, the plant's estimated load-based sewer billing for 2007 was $557,457.92; the plant's water billing estimate for that same year was $128,643.22.
Said Staples, "It's a major source of revenue to the city's water/sewer fund. It's a major industrial food processing (plant) in the community, and our newest." He added Wind River Foods has been in operation for about a year and a half.
The plant has been in the community for several years and has changed ownership numerous times in the last decade.
Firefighters continued to battle the blaze as of presstime.