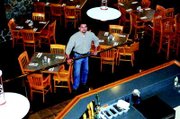 Former city activist Alex de la Cruz has returned to Sunnyside.
Approximately four years ago de la Cruz left Sunnyside. With little notice, he had to vacate his position on the Sunnyside City Council, Sunnyside Police Reserve program, a position with Sunnyside Inc. and a position on the city's planning commission.
"It was an abrupt move," he said, stating he knew he would be receiving a promotion from within the Kentucky Fried Chicken corporation after having successfully managed the Sunnyside restaurant for a number of years.
What de la Cruz hadn't anticipated was the organization would give him only one week notice. He also said he hadn't anticipated the company would send him as far away as Colorado.
"It was a difficult first Thanksgiving," said the Sunnyside native. He stated that he was accustomed to large gatherings at holidays here in Sunnyside.
de la Cruz's wife and children remained in Sunnyside while he spent the first few weeks in Colorado. The family members packed up all their belongings and joined him at a later date.
The position he was promoted to was district manager for eight to 12 restaurants in the Colorado Springs area.
"I enjoyed the work, but missed my family in Sunnyside," de la Cruz said, stating that as his children began to get older, he and his wife began discussing the possibility of moving back to the Lower Yakima Valley.
"Approximately six months ago we made the decision to move back," he noted.
de la Cruz said he had heard "through the grapevine" that Snipes Mountain Restaurant and Microbrewery was in need of a new general manager. He began talking with the restaurant's owner, Mary Ann Bliesner, and she agreed he would serve as a good manager.
Securing the job at the Sunnyside eatery enabled de la Cruz and his family to move back to the area, he said, stating Kentucky Fried Chicken did not have any available positions in the area.
"It has been a gradual adjustment," he said, stating he "wasn't too loud" about moving back to the area because he realized he wanted to focus on tackling the challenges of his new position with Snipes Mountain.
de la Cruz began managing the restaurant and microbrewery approximately four months ago and word has spread that he is back. He said some community members have stopped in to say hello to him and a few have inquired about his desire to become involved in the various organizations he once served.
"I missed a lot while I was gone," he commented, stating he has been familiarizing himself with the changes that have taken place over the past four years.
de la Cruz said he missed the community atmosphere while he was in Colorado. "I like the ability to 'rub elbows' and visit with those who play a large role in the community," he said.
He stated he feels he has a voice within the community of Sunnyside and that is what led him to become so involved before having to move.
de la Cruz said of the changes he has become informed about, "I hate chicken-pecking and pointing fingers...but, I see a need for Sunnyside's new leadership to taking the role in helping the community thrive and heal."
He feels the new leadership can be instrumental in seeking a plan for the future of Sunnyside.
"We were heading in a positive direction when I left," de la Cruz said, stating he feels the current city leadership is now also heading in a good direction. He added that he feels the new city manager will be a positive asset to the community of Sunnyside.
As to whether or not de la Cruz will become involved again with the city council...he said he has hopes that will become a reality.