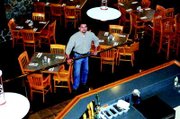 Juan J. Acosta, 52, of Grandview went to be in the arms of his Lord and Savior on Sunday, June 29, 2008, surrounded by his family.
He was born Nov. 17, 1955 in Hanford, Calif. to Gabriel A. and Eva (Uribe) Acosta. He received his education in Sunnyside and completed the ninth grade.
On Sept. 26, 1981, he married Eugenia Quintero at Blessed Sacrament Catholic Church in Grandview.
He was a semi-truck driver for 35 years and also a forklift driver at various warehouses in the valley. He was a mechanic, auto body repair person and painter. He enjoyed spending time with his family and was the head chef at family barbeques. Other activities included fishing, camping, visiting with friends and working on cars and in his rose garden.
He is survived by his wife, Eugenia Acosta of Grandview; one daughter, Maria De La Luz Acosta of Grandview; one brother, Rudy Acosta (Lupe); two sisters, Beatrice Cardenas (Sam) and Mary Cardenas (Joe); and numerous nieces and nephews.
He was preceded in death by an infant daughter; and his parents, Gabriel A. and Eva Acosta.
Viewing and visitation will be held Wednesday, July 2, 2008, from 1 to 8 p.m. at Smith Funeral Home in Grandview. Funeral services will be held Thursday, July 3, 2008, at 11 a.m. at Iglesia De Dios Nueva Jerusalen in Grandview, with burial to follow at Lower Valley Memorial Gardens in Sunnyside.
Smith Funeral Home in Grandview is in charge of arrangements.
More like this story