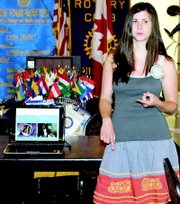 Foreign exchange student Barbara Muellauer's year in Sunnyside is almost over and on Monday she highlighted her stay for the Sunnyside Noon Rotary Club.
Sponsored by both the noon club as well as the morning Rotary club, Muellauer spoke about misconceptions she had before coming here and some of the misconceptions people in Sunnyside had about her.
A few of the thoughts she held about Americans until she came here were they were fat, but friendly. She also thought guns were everywhere and they were as easily obtainable as a pack of chewing gum. She also believed American students don't really work hard in school, we're prudish and religious, drive trucks and eat fast food all of the time.
Some of the misconceptions about her were just as off.
She said people thought that Austria was close to Australia (it's not).
"Some people think we don't have electricity, computer games, running warm water or public transportation," she said. "They thing Austrians wear leather pants and traditional dress all of the time. That we live like they did in the Sound of Music or most of the population lives in little huts in the Alps."
Muellauer assured the Rotarians those stereotypes aren't true, adding Austrians are very civilized.
She was surprised to learn how patriotic Americans can be. She said Austrians, even Europeans, don't have the pride in their country like Americans do.
"I've never seen a people so proud," she added.
Another difference she's noticed between her host and native countries is the food. She said the portion size here is enormous and Americans snack more often that her countrymen.
"High schools have a very strange philosophy about nutrition," she said.
She summed up the American culture in her view as apple pie, fast food, lots of steaks on the barbecue and chocolate chip cookies.
Americans do tend to spend more time with family than she is used to. She said Americans take religion very seriously. Muellauer was amazed at the number of churches in such a small town like Sunnyside. She joked she wasn't even aware there are that many different religions where so many churches are needed.
"Americans are friendly but reserved," she said. "And you love sports."
She noted in her native Austria that people watch soccer but that's about it.
She was impressed with the school system here, noting students have much more freedom than in her country.
Her biggest shocks that came from being in the United States were learning that students can choose what classes they want to take, that Americans put ice in almost every beverage and that table manners are slightly different here. She said in Austria table manners are much more rigid.
Muellauer said she considers herself an American now and will miss all the new friends she made while in Sunnyside.
She credits her experience here as allowing her to communicate better and be more responsible. She said she has learned to enjoy every second of life and to appreciate another culture. She's also not afraid to try new things now. That was witnessed when she joined the Sunnyside wrestling program last winter.
Muellauer will be heading back to Austria July 8 and she thanked the Rotarians for teaching her a lot.
"I hope you know that your exchange program changes people's lives," she added.
&nbs
More like this story