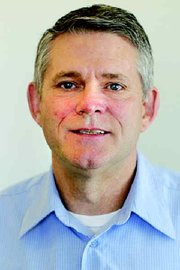 There's a new face for military veterans in the county to become familiar with: David Brown has filled a newly created position for Yakima County's Veterans Program.
Brown began working for the county in May. His job is to connect indigent veterans from throughout the county to various programs, chief among them the county's veteran assistance fund.
"Part of my job has come about because of a need for representation at the county level," Brown said.
"I think it'd be a shame if there are people that don't know about (the fund) and as a result don't have access to it," Brown said.
The veteran assistance fund provides qualified indigent veterans with funds for emergency needs such as foods, utilities, gas and other miscellaneous needs. The fund also covers burial expenses for an indigent veteran and family members.
Funds are dispersed once a week, Brown said, and available to qualifying residents throughout the county.
Another program, the Veterans Incarcerated Program, focuses on assisting incarcerated vets in Yakima County with the goal of reducing recidivism and facilitating successful integration back into society, addressing essential needs, like mental health and substance abuse counseling.
Brown said that he can help all veterans, not just indigent veterans, by helping to connect them with social services.
"My job, I just want to serve veterans overall," he said.
Brown served in the Army for 21 years and retired as an Army First Sergeant. His son is a captain in the Army and just returned home from a tour in Iraq.
Brown urges county veterans, and spouses if applicable, to call him for more information.
"I may not have all the answers, but I know people who do," he said.
To learn more about the veterans assistance program, call 509-574-1537. To speak with Brown, call 509-574-1528.