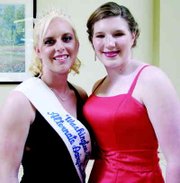 LYNNWOOD - Hoping to continue their service promoting the dairy industry in Washington, Yakima Valley Dairy Ambassador Julie Wedam and her alternate, Alyssa Boogerd, joined eight other young ladies to compete for the Washington State Dairy Ambassador crown this past weekend.
The three-day event had the girls giving speeches, handling interviews and performing community service projects to promote the dairy industry.
Wedam said one event they participated in was an outreach project that involved the girls going on a ferry to talk about the dairy industry to passengers.
"We gave quizzes to the passengers and gave out prizes to those who answered correctly," Wedam said.
"That was a fun way to interact with people," Boogerd added.
The young ladies had to give three speeches while at the competition. One was a three-minute speech promoting the dairy industry, one was a 45-second to one-minute speech promoting the county each girl represented and the last speech was an eight-minute long school presentation.
"It was a really neat experience," Wedam said. "I'm glad I had it. It was stressful but very fun, I learned a lot."
She said her year serving as the Yakima Valley Dairy Ambassador was filled with learning and gaining experience. She added some of the lessons she learned this past year she will use the rest of her life.
"I'm very grateful for that opportunity," she said.
Boogerd said her experience was fun, as well.
"I will miss it in ways but I'm ready to move forward and go on to college," she added. "I will still promote the dairy industry, just in a different way."
Thurston County's Eryn Edwards was named the 2008-09 Washington State Dairy Ambassador. Her two alternates will be Snohomish County's Adrienne Schoenbachler and Skagit/Island County's Trisha Dykstra.