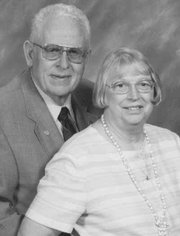 Vernon and Janet Anderson of Sunnyside have celebrated 50 years of marriage.
The couple was married on June 21, 1958 in Mt. Vernon. They recently traveled to the Oregon Coast, celebrating the golden wedding anniversary at a family reunion.
Mr. Anderson is a consulting engineer at Anderson Engineering, which he opened in 1972. Mrs. Anderson has been a substitute teacher for many years.
The couple has three children: Karol (Doug) Snook of Spokane Valley, Jill (Mike) Shuttleworth of Sunnyside and Steven Anderson of Sunnyside. They also have seven grandchildren.