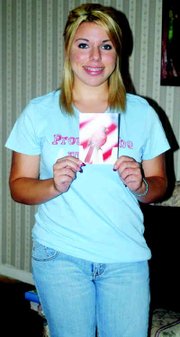 GRANDVIEW - "I want the troops to know we care," said Mary Gamino, a senior at Grandview High School this coming fall.
She said she is gathering support for men and women in the armed services through her senior project, which involves sending both cards of appreciation and care packages to those serving in Iraq and Afghanistan.
The beginning of her project involves creating thank you cards with the assistance of her youth group next Wednesday. She said the group is gathering to make cards, letting the men and women serving in the U.S. military know their efforts are appreciated.
"I was inspired by the football game Grandview hosted where we honored former Grandview High School graduate and fallen hero, Matt Emerson," Gamino explained, stating she doesn't want others serving in the military to only be remembered after they have already died.
"My project is called 'The Not Forgotten'," she noted.
Gamino said she feels it is important for the troops to know that those at home are thinking of them and appreciate all they do, sacrificing themselves for their country.
She said she also feels it is important for her youth group, Teenagers That Go, to exhibit a positive example as role models for their peers. "We want to show those who may or may not be involved with gangs that there is something positive they can do," she stated.
The youth group is comprised of youngsters who attend Blessed Sacrament Catholic Church in Grandview. They have all volunteered their time to assist Gamino with her project.
She said she has hopes that the group can send 50 cards of appreciation and 25 care packages to men and women who are from the Lower Yakima Valley.
Also hoped, according to Gamino, is that the community will help her with donations to be included in the care packages. "It would be nice if businesses can donate t-shirts with their logo, a little piece of home," she said.
Other items Gamino would like to include in the care packages would be items such as toothbrushes, cards, non-perishable food items and pre-paid phone cards.
She said she is also planning a fundraiser to raise monies for the purchase of items to be included in the care packages. The fundraiser will be a bake sale at Blessed Sacrament Catholic Church's annual carnival on July 19. The carnival will be held from 10 a.m. to 3 p.m. that day.
Gamino said she will be working on her project through the summer with hopes of having it completed by the end of the school year.
She said community members and businesses can call her at 882-2565 or email her at cgamino@live.com.
"I am willing to pick up donations upon request."