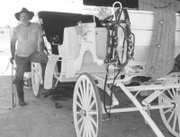 GRANDVIEW - Grandview's Ralph Janshen has a four-legged solution to the rising cost of fuel: a horse.
Actually, Janshen owns several horses, and wagons, too. "I've got hay wagons, delivery wagons, buck boards...I've got two's, I've got singles," he said.
"I've got every thing a fella needs, including the bill to feed 'em," he said.
All told, it costs Janshen roughly $80 a week to feed his horses. And, he added, "I don't have to buy licenses or pay taxes on vehicles."
Occasionally, Janshen can be seen trotting from his home on Puterbaugh Road to the mini-mart on Stover Road on a horse. "To take a diesel pick-up, it's about a gallon of fuel," he explained.
Even Janshen's five-year-old daughter, Whitney, has gotten into the act. "Whitney can drive a horse and buggy," he said. Technically, he added, she gives commands and prompts to the horse, but the horse already knows the route.
When people see Janshen around town, the reaction is mixed. Many people give a thumbs up sign. But some people honk or throw things to try to spook the horses, he said.
Janshen's grandfather migrated to the United States from Germany in 1933. Today, Janshen lives much the same lifestyle as his grandfather.
He trains horses to ride, pull and farm, just like his grandfather. And, of course, he uses the horses to farm his land for carrots, peas, potatoes and tomatoes.
Janshen said he and his family make monthly trips to the grocery store, where they buy staples like salt, flour and coffee. For other items he needs, he simply utilizes the good old fashioned barter system with friends.
Janshen said he's driven the horses all over with the carriage. It takes about 45 minutes to get to the Grandview Safeway, an hour and a half to get to the Sunnyside Safeway and about three hours to get to the grocery store in Prosser.
He did say it takes patience, but in the long run, using the horses and the buggies saves money.
Janshen also runs The Carriage Squires, LLC, making the horse and buggies available for weddings, tourists and children's birthday parties. For more information, call Janshen at 840-4364.