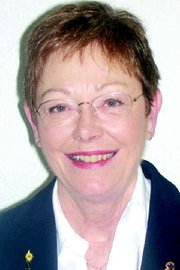 Melba Fujiura, a member of the Sunnyside Lions Club, recently attended the 91st Lions Clubs International Convention in Bangkok, Thailand.
Fujiura was one of 18,000 Lions who participated in the meeting that drew representatives from 110 countries and geographic areas around the world.
Convention highlights included a Parade of Nations featuring 10,000 Lions Club members from 110 countries, many in native dress, who marched along with floats and 25 marching bands.
Attendees also saw the association honor Nobel Peace Prize-winning economist Muhammad Yunus with its Humanitarian Award, and heard Nobel Peace Prize-winning environmental expert Adil Najam deliver a special address.
Convention delegates attended workshops, learned about important issues facing communities around the world, elected international officers, voted on constitutional amendments and helped set the future direction for Lions Clubs International. Attendees also enjoyed a Sawasdee Thai cultural show, featuring authentic Thai performances.
"It was exciting to meet so many people from countries all over the world," said Fujiura. "I am looking forward to future conventions so I can reconnect with my new international friends."
Next year's convention will be in Minneapolis, Minn. and the 2011 convention will be in Seattle.
Fujiura is a district governor for the Lions Club and oversees 52 clubs in a geographic area ranging from Ellensburg to northern Idaho. Fujiura returned from the Thailand convention this past Saturday and said it was "re-energizing to think about all the things we can do to help the community."
The Sunnyside club, which has 12 members, has community projects such as concentrating on assisting those in need of hearing aids and eye glasses. Also, the group recently obtained a cochlear implant for a local boy.
This Friday, the club will again organize the July 4 fireworks display at the high school football field. Pulled pork sandwiches made by Fujiura's husband, Ray, will also be available during the fireworks.
One of the club's other visible projects is the picnic pavilion at South Hill Park that members constructed several years ago.
The Sunnyside Lions Club meets on the second and fourth Thursdays of each month at the community center at 6:30 a.m.
For more information or to get involved with the Lions Club contact secretary Julia Hart at 837-3893.