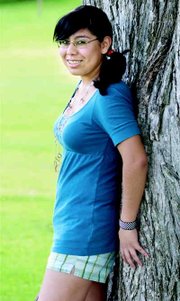 Chelsea Dimas dares to be different, so it's likely she'll tackle the Miss Sunnyside Pageant with the same verve she does everything else.
Dimas is bound and determined to promote environmental awareness should she be chosen to wear the Miss Sunnyside sash.
"My main priority is to encourage people to take care of the environment," she said.
Dimas said that during her freshman year at Sunnyside High School, she realized there was little recycling and lots of litter. "Nobody seemed to care where the garbage was going," she said.
After urging from a teacher to do something about it, Dimas founded the high school's Environmental Awareness Club.
She's approaching her third year as club president and already things have changed. "Now we've got recycling boxes donated by Yakima Waste Systems," she said, adding there are also plastic containers to recycle cans.
And, she said, every Monday members of the club go out and pick up refuse left behind after sporting events.
"I'm really into my cause," she said. "I even walk to most of the places that I go because of the gas and exhaust systems." Not only that, but she believes in organic products and doesn't mind recycled clothing, either.
Should she be selected to serve as Miss Sunnyside, Dimas said she'll operate an anti-litter campaign and promote recycling.
She'd also like to extend recycling programs to younger students in the school district, promoting environmental awareness among youth in Sunnyside.
Dimas also has a passion for soccer, a sport she's engaged in for most of her life. "I grew up playing it with my family," she explained.
She tackles her love of soccer the same way she does everything else, full-on. "If you ask me a team, I can probably recite their stats, that's how into it I am, especially the European leagues."
She's eagerly anticipating taking environmental science at Sunnyside High School.
Dimas, who has a 3.8 grade point average or better, has faced her own academic challenges. She spent several years in English as a Second Language (ESL) classes. "Sometimes, I pause and say 'um' and 'like' or I just have to say something in Spanish." In terms of overcoming the language barrier, she said, "I want to make people aware that I've worked hard."
Her "dream school," she said, is Stanford University, but she's also considering Berkley. "Or maybe a school in England, because they have good soccer programs over there," she said.
What will she study? You guessed it, something that has to do with the environment, maybe even marine biology.
When asked what her favorite aspect is regarding the community she may soon represent, she said, "I feel safe here."
Dimas has been a songwriter for about seven years and has been writing poetry for as long as she can remember.
For the talent portion of the Miss Sunnyside Pageant, Dimas will sing a song she has written especially for the program that will likely highlight overcoming challenges.
Dimas is the daughter of Guillermo and Elizabeth Dimas and is big sister to Guillermo Jr., 15, and Manuel, 13.
Dimas's sponsors are Morris Floral and Gift, Alex's Barber Shop and Carpelli's Salon and Tattoo Company.