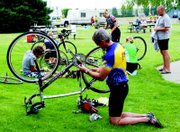 A group of more than 200 cyclists stopped in Sunnyside last Friday as part of their transcontinental tour designed to end the cycle of poverty.
According to Bill Van Wyngaarden of Alsip, Ill., the group of cyclists on the "Sea to Sea Bike Tour" are affiliated with the Christian Reformed Church. He said the group is made up of people from all over the U.S. and Canada. There are even members of the group from as far away as Haiti on the mission to help those who are impoverished.
Van Wyngaarden said, "As Christians, we believe in educating others ...we believe we're called to partner with and help others."
He said the group is working to promote awareness regarding the issues involved with poverty. "It isn't necessarily caused by those who are in poverty," he stated.
Van Wyngaarden said poverty is a systemic problem afflicting millions around the world. He said a contributing factor to poverty is the lack of realization as to the importance of an education.
Other contributing factors include a lack of health care and nutrition. "Many need health care education," said Van Wyngaarden.
He said the group is bicycling from Seattle to New Jersey, with part of the trip leading the group into the southern reaches of Canada along the way.
Members of the group also will spend time helping community members in the cities they visit, such as was done in Sunnyside last Friday.
The group no more than ventured onto the grounds of Sunnyside Christian High School, setting up their camp for a one-night stay on Independence Day before several members headed out to help Catholic Family and Child Services Volunteer Chore Service clients Roy Frazer and Iola Schafer.
Frazer suffers from diabetes and had some yard clean-up he needed done. Six members of the Sea to Sea group worked alongside Leroy Werkhoven of Sunnyside, clearing away yard debris and mowing for Frazer.
Frazer said his diabetes keeps him from doing a lot of things he would like to do.
Van Wyngaarden said the group of cyclists really just have a hope that they can make a difference in the lives of others.
He said many have done the tour before and want people to understand poverty is not a blame game. He said community members can help by drawing on the gifts those affected by poverty possess.
The group is just more than a week into a nine-week venture. They can be tracked and donations can be made at their website: www.seatosea.org.