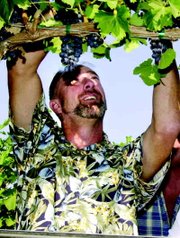 PROSSER - A selection committee made up of one representative from each of the state's viticultural regions recently chose the late Stan Clarke, a former Lower Valley resident, as this year's inductee into the Legends of Washington Wine Hall of Fame.
"He was enormously respected by everyone who had the privilege of knowing him. Stan was passionate about his work, intelligent, easy going, and endlessly giving of his time," says Martin Clubb, owner and managing winemaker at L'Ecole in Walla Walla.
As a 30-year veteran in the wine industry, Clarke was a compatriot, mentor, coach and friend to many. His passion for the art of growing grapes and making wine was infectious, often humorous and without a doubt instrumental to the progression and success of today's burgeoning wine production.
Clarke's love for viticulture began when he was a young cadet at the Air Force Academy. After being commissioned into the U.S. Air Force, he continued to educate himself while stationed at the Arctic Circle in Alaska. He worked closely with the University of Alaska researching growing days for different plants and produce. Clarke used this opportunity to lead excursions with fellow servicemen and friends to discover the wines of Germany.
In 1982 Clarke was one of the founding members and the general manager at Quail Run, now known as Covey Run. After Covey Run, Clarke became the winemaker and general manager at Hyatt Vineyards.
After many years in the Washington wine industry, Clarke decided he wanted to contribute to the well-being of children. With that goal in mind, he obtained his Master's degree in teaching from Washington State University and began his teaching career in the Prosser School District. Wherever his teaching took him, parents and students alike vied for his classes.
In 2001, when the new Walla Walla Community College Center for Enology and Viticulture had job openings, Clarke was the top pick for the associate director and he continued in that position, combining his love for teaching, wine-making and grape growing until his untimely death. In 2007, he was awarded the Lifetime Achievement Award from the Washington Association of Wine Grape Growers.
This year's candidates for the Hall of Fame included Jerry and Mike Wallace, Mike Haddox, Charlie Hoppes, Ralph Leber and Dr. Wyatt Cone.
All these pioneers will be honored at the Legends of Washington Wine Gala to be held this Saturday, July 12, in Prosser.
Previously inducted into the Hall of Fame were Bill Preston, John and Ann Williams, and Jim and Pat Holmes.
For information and reservations for the Gala call (509) 947-1316. The Legends Hall of Fame is a project of the Walter Clore Wine & Culinary Center.