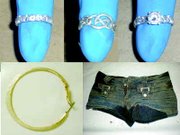 The Yakima County Sheriff's office yesterday, Monday, released pictures of clothing and jewelry on the body of a woman found in a Sunnyside-area canal this past Friday, July 4.
Detective Dave Johnson confirmed yesterday afternoon that the Sheriff's office does not know the woman's identity, though they believe she was shot and killed about 24 to 48 hours before she was found in the canal.
The woman is described as 5'3", 130 pounds, with brown eyes and brown hair.
She has no tattoos or scars.
Anyone with information is asked to contact Johnson or Detective Jeff Perrault of the Yakima County Sheriff's office at 509-574-2567 or 509-574-2565.