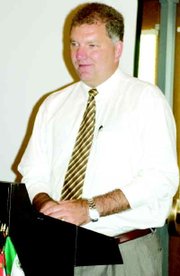 New City Manager Eric Swansen detailed the city's impending 2009 budget challenges for Sunnyside Rotarians yesterday, Monday.
Swansen began by saying that he's excited to be Sunnyside's new administrator, but he realizes it's going to be challenging working on the budget.
"There are some very difficult choices that need to be made," he said, adding the city either needs to raise revenues or reduce services, or both.
"Unfortunately, it looks like it's going to be more on the cutting side," he said. "We're going to have to look at special services. What are the services we have to provide versus those we don't? That's going to be the real challenge going forward."
He said that cutting services is treating the system, but creating revenues is the cure and Sunnyside needs more retail stores.
"Give me more retail, give me lots of it, because that's what gives us our bang for our buck," he said.
He said in order for that to happen, the city will need to work "in concert" with the Port of Sunnyside.
He said he believes the city is in the situation because the city is living outside of its means.
He said the city's budget is about $32 million and it's "$1 million out of whack."