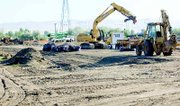 Pacific Power and Light and the Bonneville Power Administration are working in tandem to create a new sub-station along Yakima Valley Highway between Sunnyside and Grandview, just south of RC's Casino.
According to Pacific Power's Clark Satre, his company is building a 250 MVA (megavolt ampere) substation, to be named Wine Country Substation.
"To put it into perspective, the peak load for Sunnyside is in the neighborhood of 50 MVA, so this is really big," Satre said.
"The site is ideally suited for a substation because it already has two large Bonneville Power Administration transmission lines crossing it," Satre added.
The new substation will connect to one of those lines, which operates at 230,000 volts. Pacific Power will install a transformer to step that down to 115,000 volts, which is the voltage of the company's transmission system that delivers power into Grandview, Sunnyside, Toppenish, Wapato and connects into Union Gap.
"The reason we're building this substation is to reinforce our entire Lower Yakima Valley transmission system," he said.
Right now, there is a sub-station in Outlook.
Satre said that should the Outlook substation fail, the Wine Country substation can pick up the load, and visa versa.
Currently, he added, if Outlook's station failed at peak user times, being able to provide full power would be "touch and go."
Satre said of the new sub-station, "What this does is put us in a situation that if there is a problem at either substation, we still have the other as a redundant source of energy."
Satre said the project is a $10 million investment. He said construction began in the spring and will likely be completed by this fall.
Pacific Power has owned the property for about 10 years, he said, and the substation is part of a long term plan.
Satre said that BPA's portion of the project will also improve reliability for their utility customers, primarily Benton Rural Electric Association users.