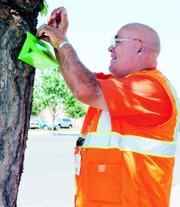 Some areas of the U.S. have been infested by the Gypsy Moth, but not Washington state.
That's according to the Washington State Department of Agriculture.
Ag officials say they have worked diligently to trap and track the parasite for approximately 35 years.
Steve Elliott, one of nearly 30 seasonal Gypsy Moth trappers, said the pest eats leaves and defoliates any tree it comes in contact with.
He said Gypsy Moths are more common on the west side of Washington state, and they have a tendency to eat anything (meaning trees) with leaves.
Elliott said the moth, by eating all foliage off a tree, causes a tree damage and weakens it. If left undetected and untreated, the tree can be affected, resulting in eventual death.
He said to prevent the death and weakening of trees in the state the Washington State Department of Agriculture sets traps, beginning in July.
"They have a mating cycle of roughly two months," said Elliott, stating the department sets traps to track the moths.
He said traps are checked every week and a half. If a trap contains a moth, more traps may be set in the vicinity to discover whether an infestation has occurred.
Approximately 2,100 traps are being set around Eastern Washington, according to Elliott. Of those traps, 175 traps will be placed throughout Yakima County.
Elliott said the traps are approximately one lineal mile from one another in rural areas and every one square mile within city limits.
"We will take the traps down in September, at the end of the mating cycle," he noted, stating that areas where large populations of the Gypsy Moth are detected will be treated for infestation in the spring "...just before the egg masses hatch."
Elliott said it is important to take these steps because once Gypsy Moths infest an area, they are nearly impossible to eradicate, as evidenced in areas near the Great Lakes.
"A female Gypsy Moth can lay roughly 2,000 eggs at a time. She doesn't fly...only males do," Elliott said.
John Lundberg, the Washington State Department of Agriculture Pest Program public information officer, said the female and male Gypsy Moth both die after they have mated.
He said the life cycle of a gypsy moth is 12 months, nine of which are spent as egg larvae.
The traps being set up now are either bright orange or green. If one has fallen, citizens are asked to call the moth hotline at 800-443-6684.
The traps do not contain insecticides and are not harmful to humans, however people are encouraged to not disturb the traps.