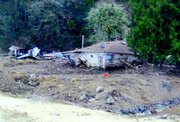 GRANDVIEW - In communities rocked by disaster, they're known as the "green shirts." Here at home, people like Grandview's Jerry and Marge Vrieling are likely known as dedicated Christians excited about improving the lives of those impacted by disaster.
The Vrielings were recruited to participate in Disaster Relief Services through the Christian Reformed World Relief Committee by Sunnyside's Margaret and Wilbur Duim.
The Duims are area managers for the international program; the headquarters are in Michigan.
Duim said if there is a disaster, "We offer to go help."
The difference between the Duims and the Vrielings is that the Duims do construction work. The Vrielings conduct needs assessments.
Said Mrs. Duim, "I paint and my husband just does whatever they tell him to."
The Vrielings go to communities impacted by disaster and attempt to identify families who have fallen through the cracks.
"When we'd go to the door, people would say, 'You're the green shirts! We've heard all about you'," said Mrs. Vrieling.
The Vrielings traveled in March to Oregon and to Western Washington in late April and early May.
In Oregon, the region was racked by mudslides. In Greys Harbor County in Washington, there was 147 mile per hour winds sustained for 48 hours, Mr. Vrieling said.
Mrs. Vrieling explained that it's the job of the green shirts to go in after FEMA and the Red Cross leave. And, added Mr. Vrieling, "We don't come in until we're asked to come in." That is done through local disaster relief services.
Mr. Vrieling said there are a lot of people who fall through the cracks.
"Our specific role is to go door to door, filling out forms that ask just about every question there is," he said, adding that he and his wife ask residents impacted by disaster to explain, in their words, what they experienced when disaster hit.
Mrs. Vrieling said that sometimes all residents need is a sympathetic ear. "Someone to listen. Listening is so important."
Mr. and Mrs. Vrieling do not do any of the construction aspect of disaster relief. Their job is to survey, go back at night to their group and explain to group leaders what they heard during the day. Data they have collected is then entered into a computer and the Vrielings do not get to hear what became of the people they met and interviewed.
"The hardest part is to come home and not know if they ever got help," said Mrs. Vrieling.
The Vrielings said they've encountered various situations on their disaster relief travels. In Oregon, they visited one home besieged by four feet of mud indoors. On another visit, they came across a widow who simply didn't know if insurance would cover her wind-damaged roof. Her husband had always taken care of things like that and he had passed away three months before the storm. Mr. Vrieling's real estate background helped in that situation, because he knew that since she was carrying a contract for the home, it was required that she have insurance.
Needs, he said, "can be simple or complex."
When they go, their job is not to spread the Gospel, although Mr. Vrieling said that if it becomes obvious that he and his wife are interviewing a person who is of faith, it's then OK to speak of faith.
The Vrielings and the Duims are members of Sunnyside's Christian Reformed Church, but emphasized that to work in disaster relief, one can come from any denomination. They also emphasized that during the two or three-week trips, getting to know other members on the team from all across the nation is rewarding.
Said Mrs. Duim, "There's always such good fellowship with the people there."
The Vrielings have made lasting friendships with other teammates they worked with in Oregon and Western Washington.
Mrs. Duim said that when working on a disaster relief project, food and board is provided during the stay in the town where the work will be conducted. If traveling for one week, the volunteer pays for transportation. If traveling for two weeks, the organization based out of Michigan pays one-way. If working on disaster relief for three weeks, the organization pays round-trip transportation.
Mrs. Duim and the Vrielings said that there is very little cost out of pocket to work in disaster relief. But the personal rewards are tremendous.
"You have to like people, care about people," said Mr. Vrieling. "It's a very rich experience, not just for the people you help, but for your team, too."
Added Mrs. Vrieling, "It's just tremendous. We come home on a high."