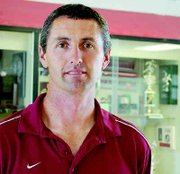 Fourteen years as a teacher, a decade as boys head basketball coach and now Scott Parrish begins a new chapter at Grandview High School as athletic director/assistant principal.
Parrish confirmed yesterday, Tuesday, that he was offered the position this past Thursday by Principal Mike Closner. The hiring still must be confirmed by the Grandview School Board.
His predecessor, Ken Murray, resigned from the AD post when he was hired for the same position at Southridge High School in Kennewick.
Just two months ago Parrish, 40, resigned as head coach and says now he had an AD position in his sights.
"I was looking at making the move professionally, but that wasn't the total reason," he says of stepping down from the hoops program. Parrish has his principal's credentials and said stepping down as head coach was a necessity if he wanted to eventually advance to the next level.
Parrish said he thought about pursuing the AD spot last year when it opened up. "I tossed it around as far as applying, but decided to continue coaching," he said.
After building a boys basketball dynasty in Grandview, winning seven 2A State trophies in seven trips to the State tourney, Parrish is looking forward to overseeing the Greyhound athletic program and serving as assistant principal.
"I'm real excited. It's a new challenge and I look forward to getting into it and see what it involves," Parrish says.
He said the first priority will be to hire a new head football coach, as previous coach Dustin Lamb resigned about a month ago. Parrish had three interviews set up yesterday. "We should be making a decision in the next couple of days," he said.
Parrish is also busy making sure the fall sports schedule is ready to go and checking academic eligibility for Greyhound athletes.
One thing Parrish won't have to worry about is hiring his replacement, as longtime assistant Roy Garcia was hired three weeks ago for the head boys basketball coaching post.
As athletic director and assistant principal, Parrish will step down as a history and weight training teacher at the high school. In the assistant principal position, Parrish said his responsibilities will include student discipline and teacher evaluations.