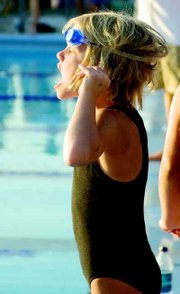 PROSSER - Dominating the boys 10&U, 12&U, 16&U and 18&U events, the Prosser Piranhas bested the visiting Sunnyside Sharks last night, 461-365.
Tuesday's victory avenged Prosser's 462-359 loss to Sunnyside in the Sharks' pool back on June 17. For Sunnyside (7-1), last night's loss was its first of the season.
Prosser's Scott Blakney and Deyton Cleveringa combined to win all five of last night's boys 10&U races.
Piranha teammate Ty Hobbick was even more of a force against the Sharks, winner of four of the five boys 12&U races. William Burgett of Prosser earned the other win in that age division.
In the boys 16&U events, Chris McKinney won three times and Branden Hobbick twice to give Prosser the sweep in the five races.
The Sharks also had no answers for Prosser in the boys 18&U age division. Tyler Burgett and Anthony Kim finished one-two for the Piranhas in all five events.
It was a different story, however, in Tuesday evening's 8&U and 14&U boys races. Carlo Rodriguez and Skylar Gray each brought home a pair of victories for the Sharks at boys 8&U, and at 14&U it was Cristian Vargas of Sunnyside who dominated the action. Vargas won three of the five races, placing second once.
On the girls side, no one had a bigger night than 12&U swimmer Brittany Broersma of Sunnyside. Not only did she sweep to victory in all five of the events in her age division, she did so in head-turning fashion.
Broersma's clocking of 26.56 seconds in the 40-yard breaststroke was especially remarkable, considering it was faster than any of the girls times in the older 14&U and 16&U age divisions, as well as bettering all of the boys 12&U and 14&U times.
Sunnyside turned in a strong effort, too, in the girls 10&U events. Katelyn Banks came away a three-time winner for the Sharks, and teammates Lindsay Schilperoort and Kalie Bestebreur each garnered one victory.
The most heated exchange of the night may have come in the girls 14&U events. Prosser's Mackenzie Gant and Sunnyside rival Marisa Broersma dueled valiantly against one another, finishing either first or second in all five races. In the end, Gant notched three wins to Broersma's two.
Prosser went on to win all five of the girls 16&U races, but the Sharks countered with four victories, all by Kaitlyn Broersma, at girls 18&U.
Sunnyside 365
Prosser 461
160-YARD MEDLEY RELAY
Girls 10&U
1st-Sunnyside (K. Banks, K. Bestebreur, L. Schilperoort, S. Hazzard) 2:25.86
Boys 10&U
1st-Prosser (S. Blakney, D. Cleveringa, C. Baker, L. Russell) 2:34.38
Girls 12&U
1st-Sunnyside (C. Cunningham, L. Anderson, B. Broersma, M. Marquez) 2:11.70
Boys 12&U
1st-Prosser (S. Kawakami, T. Hobbick, W. Burgett, R. Lusk) 2:00.49
Girls 14&U
1st-Prosser (M. Gant, A. Ingram, H. Rankin, K. Watts) 1:53.52
Boys 14&U
1st-Sunnyside (C. Vargas, G. Stutesman, G. Rodriguez, T. Stiteler) 1:48.09
Girls 18&U
1st-Prosser (H. Rankin, B. Beierle, R. Watkins, S. Contreras) 1:46.43
Boys 18&U
1st-Prosser (B. Hobbick, T. Burgett, C. McKinney, W. Lane) 1:36.25
40-YARD BUTTERFLY
Girls 8&U
1st-Emily Banks (S) 40.98, 2nd-Leah Blakney (P) 41.88, 3rd-Jolissa Mendoza (S), 4th-Alyssa Martin (S)
Boys 8&U
1st-Carlo Rodriguez (S) 48.43, 2nd-Anthony Sanchez (S) 1:17.69
Girls 10&U
1st-Lindsay Schilperoort (S) 35.18, 2nd-Kalie Bestebreur (S) 35.80, 3rd-Jaiden Hamilton (P), 4th-Katelyn Banks (S)
Boys 10&U
1st-Scott Blakney (P) 32.76, 2nd-Deyton Cleveringa (P) 33.21, 3rd-Fox Rodriguez (S), 4th-Mathew Marquez (S)
Girls 12&U
1st-Brittany Broersma (S) 26.49, 2nd-Madi Marquez (S) 30.06, 3rd-Gabby Villarreal (P), 4th-Kate Burnett (P)
Boys 12&U
1st-Ty Hobbick (P) 24.93, 2nd-William Burgett (P) 26.46, 3rd-Tad Tyhuis (S), 4th-Sam Kawakami (P)
Girls 14&U
1st-Mackenzie Gant (P) 22.68, 2nd-Marisa Broersma (S) 24.28, 3rd-Hailey Rankin (P), 4th-Kendall Watts (P)
Boys 14&U
1st-Cristian Vargas (S) 24.04, 2nd-James Wildman (P) 25.19, 3rd-Tim Stiteler (S), 4th-Daniel Barnett (P)
Girls 16&U
1st-McKenna Elliott (P) 24.81, 2nd-Hanna Rankin (P) 25.72, 3rd-Kristen Wedam (S), 4th-Alissa Martin (S)
Boys 16&U
1st-Chris McKinney (P) 21.43, 2nd-Branden Hobbick (P) 22.06, 3rd-Edgar Vargas (S), 4th-William Lane (P)
Girls 18&U
1st-Ruthie Watkins (P) 23.18, 2nd-Kaitlyn Broersma (S) 23.89, 3rd-Taylor Ely (P), 4th-Melissa Stamschror (S)
Boys 18&U
1st-Tyler Burgett (P) 20.57, 2nd-Anthony Kim (P) 21.01, 3rd-Sam Bardell (S)
40-YARD BREASTSTROKE
Girls 8&U
1st-Leah Blakney (P) 39.13, 2nd-Emily Banks (S) 45.56, 3rd-Alyssa Martin (S), 4th-Emily Broersma (S)
Boys 8&U
1st-Skylar Gray (S) 53.03, 2nd-Luke Stutesman (S) 1:01.72, 3rd-Anthony Sanchez (S)
Girls 10&U
1st-Kalie Bestebreur (S) 38.26, 2nd-Katelyn Banks (S) 39.84, 3rd-Lindsay Schilperoort (S), 4th-Kaylee Perkins (P)
Boys 10&U
1st-Scott Blakney (P) 38.65, 2nd-Fox Rodriguez (S) 38.84, 3rd-Deyton Cleveringa (P), 4th-Mathew Marquez (S)
Girls 12&U
1st-Brittany Broersma (S) 26.56, 2nd-Madi Marquez (S) 33.01, 3rd-Lyndsee Anderson (S), 4th-Madison Zimmermann (P)
Boys 12&U
1st-Ty Hobbick (P) 30.52, 2nd-William Burgett (P) 30.66, 3rd-Sam Kawakami (P), 4th-Tad Tyhuis (S)
Girls 14&U
1st-Marisa Broersma (S) 28.06, 2nd-Mackenzie Gant (P) 29.57,3rd-Amy Ingram (P), 4th-Hailey Rankin (P)
Boys 14&U
1st-James Wildman (P) 28.71, 2nd-Cristian Vargas (S) 29.44, 3rd-Daniel Barnett (P), 4th-Giovanni Rodriguez (S)
Girls 16&U
1st-Bre Beierle (P) 29.11, 2nd-McKenna Elliott (P) 31.34, 3rd-Alissa Martin (S), 4th-Hanna Rankin (P)
Boys 16&U
1st-Chris McKinney (P) 26.09, 2nd-Branden Hobbick (P) 28.33, 3rd-William Lane (P), 4th-Edgar Vargas (S)
Girls 18&U
1st-Kaitlyn Broersma (S) 25.91, 2nd-Ruthie Watkins (P) 29.70, 3rd-Taylor Ely (P), 4th-Melissa Stamschror (S)
Boys 18&U
1st-Tyler Burgett (P) 26.36, 2nd-Anthony Kim (P) 27.09, 3rd-Sam Bardell (S)
40-YARD BACKSTROKE
Girls 8&U
1st-Leah Blakney (P) 40.28, 2nd-Emily Banks (S) 43.80, 3rd-Alyssa Martin (S), 4th-Jolissa Mendoza (S)
Boys 8&U
1st-Skylar Gray (S) 47.27, 2nd-Carlo Rodriguez (S) 54.81, 3rd-Kord Tuttle (P), 4th-Parker Van de Graaf (S)
Girls 10&U
1st-Katelyn Banks (S) 32.66, 2nd-Jaiden Hamilton (P) 34.23, 3rd-Izzy Thornbrugh (P), 4th-Kalie Bestebreur (S)
Boys 10&U
1st-Deyton Cleveringa (P) 32.63, 2nd-Scott Blakney (P) 37.24, 3rd-Fox Rodriguez (S), 4th-Bryce Murphy (S)
Girls 12&U
1st-Brittany Broersma (S) 28.82, 2nd-Madi Marquez (S) 31.00, 3rd-Rylee Suhadolnik (P), 4th-Lyndsee Anderson (S)
Boys 12&U
1st-Ty Hobbick (P) 27.83, 2nd-Tad Tyhuis (S) 29.53, 3rd-William Burgett (P), 4th-Sam Kawakami (P)
Girls 14&U
1st-Mackenzie Gant (P) 24.87, 2nd-Marisa Broersma (S) 28.20, 3rd-Kendall Watts (P), 4th-Hailey Rankin (P)
Boys 14&U
1st-Cristian Vargas (S) 26.93, 2nd-Tim Stiteler (S) 30.10, 3rd-Grant Stutesman (S), 4th-James Wildman (P)
Girls 16&U
1st-McKenna Elliott (P) 26.46, 2nd-Hanna Rankin (P) 27.66, 3rd-Kristen Wedam (S), 4th-Alissa Martin (S)
Boys 16&U
1st-Branden Hobbick (P) 24.64, 2nd-Chris McKinney (P) 25.11, 3rd-Edgar Vargas (S), 4th-Dylan Graybeal (S)
Girls 18&U
1st-Kaitlyn Broersma (S) 26.84, 2nd-Ruthie Watkins (P) 26.88, 3rd-Taylor Ely (P), 4th-Melissa Stamschror (S)
Boys 18&U
1st-Tyler Burgett (P) 23.56, 2nd-Anthony Kim (P) 23.93, 3rd-Tommy Contreras (P), 4th-Sam Bardell (S)
40-YARD FREESTYLE
Girls 8&U
1st-Leah Blakney (P) 30.02, 2nd-Jolissa Mendoza (S) 35.01, 3rd-Emily Banks (S), 4th-Alyssa Martin (S)
Boys 8&U
1st-Carlo Rodriguez (S) 35.96, 2nd-Kord Tuttle (P) 40.64, 3rd-Skylar Gray (S), 4th-Parker Van de Graaf (S)
Girls 10&U
1st-Katelyn Banks (S) 28.09, 2nd-Jaiden Hamilton (P) 28.28, 3rd-Kalie Bestebreur (S), 4th-Aydan Harrington (S)
Boys 10&U
1st-Scott Blakney (P) 27.12, 2nd-Deyton Cleveringa (P) 27.72, 3rd-Fox Rodriguez (S), 4th-Camden Baker (P)
Girls 12&U
1st-Brittany Broersma (S) 23.29, 2nd-Madi Marquez (S) 23.91,3rd-Karlie Lusk (P), 4th-Lyndsee Anderson (S)
Boys 12&U
1st-William Burgett (P) 23.71, 2nd-Ty Hobbick(P) 24.03, 3rd-Tad Tyhuis (S), 4th-Riley Lusk (P)
Girls 14&U
1st-Marisa Broersma (S) 21.89, 2nd-Mackenzie Gant (P) 21.90, 3rd-Kendall Watts (P), 4th-Alexandra Newhouse (S)
Boys 14&U
1st-Tim Stiteler (S) 22.05, 2nd-Daniel Barnett (P) 22.45, 3rd-James Wildman (P), 4th-Cristian Vargas (S)
Girls 16&U
1st-McKenna Elliott (P) 22.38, 2nd-Hanna Rankin (P) 22.84, 3rd-Alissa Martin (S), 4th-Bre Beierle (P)
Boys 16&U
1st-Chris McKinney (P) 19.11, 2nd-Branden Hobbick (P) 20.28, 3rd-Matt Hatfield (S), 4th-William Lane (P)
Girls 18&U
1st-Kaitlyn Broersma (S) 21.70, 2nd-Ruthie Watkins (P) 22.42, 3rd-Taylor Ely (P), 4th-Melissa Stamschror (S)
Boys 18&U
1st-Anthony Kim (P) 19.05, 2nd-Tyler Burgett (P) 19.13, 3rd-Tommy Contreras (P), 4th-Sam Bardell (S)
160-YARD FREESTYLE RELAY
Girls 10&U
1st-Sunnyside (E. Banks, K. Bestebreur, L. Schilperoort, S. Hazzard) 2:14.00
Boys 10&U
1st-Prosser (C. Baker, S. Blakney, D. Cleveringa, L. Russell) 2:08.43
Girls 12&U
1st-Sunnyside (B. Broersma, L. Anderson, J. Rodriguez, M. Marquez) 1:49.06
Boys 12&U
1st-Prosser (W. Burgett, T. Hobbick, S. Kawakami, R. Lusk) 1:44.45
Girls 14&U
1st-Sunnyside (M. Broersma, A. Newhouse, E. Hutchins, T. Van Corbach) 1:39.93
Boys 14&U
1st-Prosser (J. Wildman, C. Baker, N. Saam, D. Barnett) 1:35.25
Girls 18&U
1st-Prosser (R. Watkins, H. Rankin, M. Elliott, T. Ely) 1:35.25
Boys 18&U
1st-Prosser (T. Burgett, B. Hobbick, C. McKinney, W. Lane) 1:25.87
160-YARD INDIVIDUAL MEDLEY
Girls 10&U
1st-Katelyn Banks (S) 2:47.45, 2nd-Kalie Bestebreur (S) 2:54.19, 3rd-Lindsay Schilperoort (S), 4th-Summer Hazzard (S)
Boys 10&U
1st-Deyton Cleveringa (P) 2:40.80, 2nd-Scott Blakney (P) 2:50.47, 3rd-Fox Rodriguez (S), 4th-Jacob Mendoza (S)
Girls 12&U
1st-Brittany Broersma (S) 2:17.09, 2nd-Madi Marquez (S) 2:35.09, 3rd-Gabby Villarreal (P), 4th-Rylee Suhadolnik (P)
Boys 12&U
1st-Ty Hobbick (P) 2:17.84, 2nd-William Burgett (P) 2:24.91, 3rd-Tad Tyhuis (S), 4th-Sam Kawakami (P)
Girls 14&U
1st-Mackenzie Gant (P) 1:57.37, 2nd-Marisa Broersma (S) 2:11.42, 3rd-Hailey Rankin (P), 4th-Brenna Cherry (P)
Boys 14&U
1st-Cristian Vargas (S) 2:07.16, 2nd-Tim Stiteler (S) 2:19.74, 3rd-Nolan Saam (P), 4th-James Wildman (P)
Girls 16&U
1st-Hanna Rankin (P) 2:11.82, 2nd-McKenna Elliott (P) 2:17.81, 3rd-Alissa Martin (S), 4th-Kristen Wedam (S)
Boys 16&U
1st-Branden Hobbick (P) 1:57.65, 2nd-Chris McKinney (P) 1:59.93, 3rd-Charles McClammer (P), 4th-William Lane (P)
Girls 18&U
1st- Kaitlyn Broersma (S) 2:02.87, 2nd-Ruthie Watkins (P) 2:11.77, 3rd-Melissa Stamschror (S)
Boys 18&U
1st-Tyler Burgett (P) 1:52.77, 2nd-Anthony Kim (P) 1:56.76, 3rd-Sam Bardell (S)