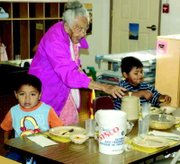 GRANDVIEW - Eight years ago, Robert "Connie" Sandoval suffered a stroke and her family was told she'd likely be a "vegetable" after an ensuing surgery. But in the past six years, Sandoval has found a reason to get out of bed every morning: she's a foster grandparent at the Alice Grant Learning Center in Mabton.
"It gives me an incentive to get up every morning, let's put it that way," says Sandoval, who walks with a cane.
Sandoval's a widowed retiree. She worked for 30 years as a nurse and raised seven children.
Several years ago, she learned about the foster grandparent program through a friend.
For Sandoval, it's something to do after retirement. "It occupies my mind," she says.
Foster grandparents can be found in Mabton at Artz-Fox Elementary School and at the Alice Grant Learning Center in Grandview.
The program is through the Catholic Family and Child Service office in Yakima.
According to Megan Turner, the program is designed to provide meaningful volunteer opportunities to low income senior citizens age 60 and older.
Turner said qualifying senior citizens receive a non-taxable stipend for their work.
At the elementary school, teachers have found foster grandparents to be invaluable.
Teacher Enedina Boswell says they're especially helpful in the summer. "If I don't have a grandparent volunteer, I don't have an aide," she says. "They're really good in the classroom. They can pull out a specific student if that child needs help in a certain area, whereas I'm not able to do that."
She adds, "They're very valuable."
Boswell said the students often perceive the foster grandparents as a "big kid, big friend."
Teacher Cindy Rodriguez added, "Someone more to hug. They give out praise and encouragement. It's an enrichment for both (the foster grandparent and the students)."
This summer is the first time Artz-Fox Elementary School teacher Delia Cerillo has had a foster grandparent in the classroom.
"I've never had help in a classroom as far as a foster grandparent. I love this idea and I'm glad I do now," says Cerillo.
Cerillo's foster grandparent in the classroom is Martin Castro. "The kids love working with him. They look up to him," she says, adding that he's been pushing the first and second graders to enhance their skills in teaching others to be respectful.
Cerillo said, "Right now, we're really reinforcing respect, good manners for our little ones."
Sandoval, who has volunteered at Alice Grant Learning Center for about six years now, said she strongly recommends other seniors consider becoming foster grandparents. Simply put, she says, retirees have the potential to get bored. "Especially if they are used to working."
Of the program, she said, "It's satisfying...as you get older, you value what they have, you value what you have."
To learn more about the program, call Turner at 509-965-7100.