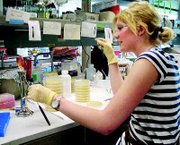 MOSCOW, IDAHO - University of Idaho senior Aileen Rice likes change.
Rice, 20, attended Yakima Valley Community College at the age of 15 and graduated at 17. Growing up in a small town atmosphere also inspired her to move on to bigger cities and foster a love of travel that has taken her to Germany and Taiwan, among other places. Rice also enjoys working at Bucer's coffee shop in downtown Moscow, Idaho, not only for the "disgustingly unhealthy" frappes she loves, but the many people she gets to meet. And her science interests change almost as often as the next place she plans to study abroad.
"I really like getting to know people or even just helping people so I would lean more toward the health field," she says. "I'm starting to think more physician assistant's school, but it's always changing so you never know where I'll end up."
Rice's current interest is in gene therapy for cancer patients, but her personality matches the bacteria she studies. Rice, under a 10-week, $5,000 fellowship from the Idaho Institutional Development Award (IDeA) Network of Biomedical Research Excellence (INBRE) program, is studying how one bacterium changes to respond to varying temperature levels.
The Idaho Network of Biomedical Research Excellence program was established through a five-year, $16 million grant from the National Institutes of Health. It is charged with the task of increasing biomedical research conducted in Idaho in addition to improving research opportunities for faculty and students at all of the state's universities and colleges.
One of 30 undergraduates to receive the award statewide, Rice will characterize the temperature-regulating ability of Staphalococcus aureus, a bacterium with the ability to exist in harsh environments as well as in some animals and humans.
In the laboratory of University of Idaho professor of microbiology Gregory Bohach, Rice will study how S. aureus can survive life on the human skin and also in the human nasal canal, which has a lower temperature. Bohach is associate dean and director of the Idaho Agricultural Experiment Station.
Having entered the body through a cut on the skin or other pathway, Rice says the bacterium begins to produce toxins.
"Nobody's quite figured out how it regulates and realizes it's at a different temperature," she says. "There's obviously something on the surface of it that's telling the inside of the cell to start producing these toxins."
S. aureus has many two-component systems thought to help it recognize temperature changes and thus adjust to new environments. Rice will use a "knockout gene" to disable one of the systems that was recently discovered to characterize the bacteria's survival capabilities. She says a similar two-component system, which produces proteins upon change in temperature, has been found with Bacillus subtilis.
Looking at the mutant created will give Rice and others a better idea as to whether the system is directly involved with the bacteria's superhero antics when it comes to surviving in different environments.
With changing interests always at hand, Rice's interest in living systems remains constant.
Rice found interest in the topic when her mother gave her a human anatomy and physiology video when she was younger.
"Something that's dynamic, you know, that goes through a lot of change. I like to see things change," she says. "You never know how they're going to react to things so that's kind of what I like about it-that it's a little unpredictable."
Rice's childhood was less so. She says she enjoyed the familiarity of growing up in Sunnyside.
"It's really cool because you go into town and you go to the post office, or you go to Safeway and most everybody will just know you," she says. "I just really liked knowing people, even people you didn't have a relationship with, just being able to know them."
But as a Washington Running Start student, Rice says she felt the need to prove herself in many community college classes, as respect was not given easily to a student of such young age. Rice looks at her early introduction to college as a life experience.
"I learned early on that I had to be serious about things if I was going to get somewhere," she says.
In the future, she's destined for South America...within the next year she hopes to join other students when the University of Idaho's ASUI Center for Volunteerism and Social Action sends aides down to Peru.