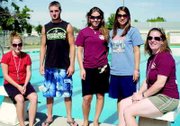 GRANDVIEW - Mackenzie Charvet has spent most summers of her life hanging out in swimming pools to beat the heat. Today, she works as manager of the Grandview swimming pool.
"I grew up in Portland going to the pool all the time," she said. "I did swim team and (being at the pool) is just a fun place to be."
Charvet's lifeguard experience dates back to 1999 when she worked at Eastern Oregon University. She's since gotten married and moved to Grandview, and in 2005 worked at the city's swimming pool as a lifeguard.
Last summer, Charvet went back to school to earn her teaching certificate during the summer while working at the Sunnyside and Grandview pools.
"I love teaching swimming lessons," she said. "Getting in the water and teaching. That's what actually got me to go back to school."
Charvet has been working as a substitute teacher in the Grandview School District since 2005. Now that she's certified to teach business and math, she's hoping to land a teaching job in the area during the school year.
In the meantime, she's enjoying her position as manager of the Grandview pool.
A passion for teaching youngsters how to swim is a resounding theme among the lifeguards in Grandview that Charvet oversees.
Matt Concienne, a 2008 GHS graduate and third year lifeguard said, "You're serving the community when you (teach) swim lessons, which is a necessity." Concienne added, "The kids look up to you to keep them safe."
Charvet recently caught Concienne off-guard with a drill by having a child pretend he was drowning. Charvet said the boy is a regular at the pool and she obtained permission from his mother for the child to participate.
"He did great," Charvet said of Concienne, who admitted that the drill got his adrenaline going.
Soon, Charvet will do a spinal injury drill by having a child, again with the parents' permission, pretending to have a back injury. Charvet said the staff never knows when a drill is going to happen.
Danika Martinez, a 2007 GHS graduate and University of Washington sophomore, has returned to the pool to lifeguard for her third year. Of the job she said, "It's as relaxing as (a job) can get."
Fellow lifeguard Chante Bottineau shares Concienne and Charvet's passion for teaching children. "I love teaching kids to swim, absolutely love it." Bottineau is also a 2007 graduate of Grandview High School.
This is young Nikki Charvet's first year at the swimming pool. Charvet, who's 15-years-old, said it's a fun summer job. "And I like (being in) the water and working with kids on swim lessons."
The older Charvet has many tasks as the pool manager, she oversees lifeguards and conducts the surprise drills to keep the lifeguards on their toes. She also creates lifeguard schedules, makes deposits and provides "customer service."
Charvet said 99 percent of the pool patrons are great kids. Then there's that one percent she has to discipline, which she doesn't enjoy.
"I'm very strict. I have high expectations of the patrons of our pool. And I expect them to follow the rules," she said. "I don't like (to discipline) but I'm not afraid to do it."
Charvet said of her job, "I love being down here (at the pool). People ask me why I don't teach summer school. I'm a water rat, myself."