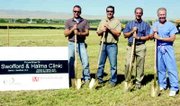 At long last, the ground was broken yesterday at the soon-to-be Swofford Halma medical clinic, to be located at the Port of Sunnyside's industrial/business park on East Edison Avenue.
Dr. David J. Swofford's father, Dr. P.J. Swofford, opened a clinic at 803 E. Lincoln Ave. in 1958 and the senior Swofford was on hand at yesterday's groundbreaking.
"Having my father here means a lot to me," said the younger Swofford. "As I said on the drive here (to the groundbreaking ceremony), I really can't believe this is finally going to happen."
Dr. Harlan Halma expressed a similar sentiment, saying that since he joined up in practice with the younger Swofford, the building of a new facility was supposed to happen "any year now."
Said Halma, "Within a year we're going to be standing (here) in a new building. It's pretty exciting."
Also on hand at the groundbreaking ceremony was Josie Rodriguez, who began working at the clinic in 1960.
The 12,000 sq. ft. medical facility will be located on the southwestern side of the business park.
The medical clinic should open by spring 2009.