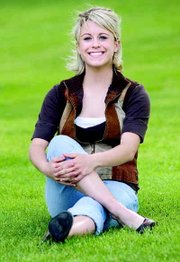 Audra Hays is always up for a challenge, so when she heard about the opportunities in running for Miss Sunnyside, she couldn't pass it up.
"I'm always wanting to try something new--anything that comes my way, I'm ready to take it on," she says with an easy smile. "I'm always up for anything."
For Hays, vying for the title also presents an opportunity to bond with big sister Amy, who pursued the title herself back in the late 1990s.
"She gives me hints," Hays said, adding that the two are working on her talent together, a monologue about Hays raising and showing animals.
Hays describes it as having a "Little Bo Peep," featuring pictures.
"Ever since I was nine, I've been showing (livestock) at Toppenish and Grandview," she said. "It's something I didn't let go of, I've stayed with it."
Persistence paid off just last May when she won reserve grand champion honors at Toppenish.
Hays has an affinity for animals. For that reason, should she be selected to serve as Miss Sunnyside, her community service project will be assisting Sunnyside's Pet Health Clinic.
"They take in a lot of animals," she said, adding that they find adopted families for animals. She'd like to help them raise funds for animals that are waiting to be placed in a loving home.
Hays is very focused on her future. Right now, she's attending Sunnyside Beauty Academy. That'll come in handy, she says, when she's attending college to become a veterinarian.
In fact, Hays says she can't think of a time when she didn't dream of being anything but a vet. "It's just something I've always loved.
"I've wanted to be a vet ever since I was little. It's one of those dreams I'm really looking forward to accomplishing. I won't be dropping that anytime soon," she said.
Hays said she appreciates the fact that the Sunnyside School District facilitates studies at the beauty academy through the YV Tech program.
For those considering it, she said, "If you want to do this program, jump into it in high school. The school helps out a lot." The school district's support greatly reduces costs for students who opt to participate in YV Tech.
Once she's graduated from Sunnyside High School, she plans to attend Columbia Basin College and earn a two-year degree. From there, she wants to pursue a veterinary career at Washington State University, all the while working as a hair stylist.
Hays is a self described "outdoorsy" type person, she loves spending time outside and hanging out with the family pets, including horses, sheep, dogs and a cat. "Oh, and we have some chickens, too. We pretty much have everything," she said.
Hays said another compelling reason to run for Miss Sunnyside is the fact it will give her a chance to get to know more about the community, as well as identify ways to become more actively involved.
Hays is the daughter of Audie and Gayle Hays and sister to Amy, 26, Victoria, 24, and Alex, 13.
Her sponsors for the Miss Sunnyside Pageant are Sunnyside Beauty Academy and Hair Max.