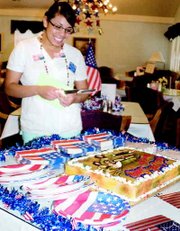 Sunnyside Sun Terrace staff bid farewell to fellow co-worker Sandy Ramirez yesterday, Thursday, who is not only a med-tech at the facility but an Army National Guard soldier about to be deployed to Iraq.
"We're not happy she's leaving, but we're proud she's serving our country," said Sun Terrace General Manager Don James.
Staff went to great lengths to keep the surprise party a secret from Ramirez, including sending her on a "wild goose chase" or two during the day.
When she finally made her way to the dining room for the afternoon party, staff adorned her with a patriotic red, white and blue necklace.
"I feel special!," she said.
Ramirez's cake featured a female soldier driving a humvee. That's what Ramirez will be doing in Iraq.
Ramirez, an E-4 specialist out of the Echo 181st in Spokane, leaves for training today, Friday. She said she expects her unit to arrive in Iraq by August.
Ramirez, 20, said it's unlikely she'll return to Sun Terrace once her tour of duty is complete.
"I'm going to go to either Eastern or Central Washington University to study nursing," she explained.
But she'll miss the facility, she added. "I like this job. I'm going to miss the residents."
Ramirez is from Grandview.