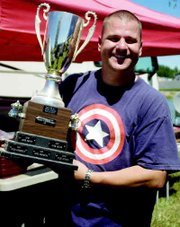 GRANGER - Families from the east and west sides of the Cascade Mountains converged in Granger this past weekend to participate in the R/C Unlimited Hydro Boat Club's Governor's Cup race at Hisey Park.
Dave Brandt of Kennewick defended his title, which was the eighth race in a series of 14.
It wasn't unusual to see varying generations of families at the event.
Brandt brought along his wife, Brenda, and five-month-old daughter, Alexys.
Said Mrs. Brandt, "In about two-and a half years, she'll be holding a remote control. As long as she's old enough to grab a radio, she's good to go."
Chet Lepinski of Richland helped organize the event and said the club's 14 races are sponsored by O Boy Oberto out of Kent.
That's important, he said, with the popularity of the sport drawing participants from as far away as the west side of the mountains and the increase in fuel costs.
"For us as a club, (the sponsorship) helps us out a great deal," he said.
The Governor's Cup race this past weekend drew nine attendees from west of the Cascades and nine from the east.
David Newton of Renton took second place honors, while Chet's son, Brian Lepenski, took third place.
John Gatjens of Lynwood placed fourth, Steve Schmitz of Bellingham placed fifth and Bill Brandt of Kennewick placed sixth. Mrs. Brandt finished in seventh place.
Lepinski noted this is the 35th anniversary of the club, which was started by Roger Newton. "He's the head honcho," said Lepinski.
He said, "Our club is dedicated to depicting the real hydroplanes, all the planes from the 1950s to present day."