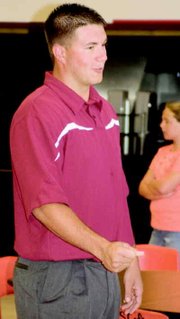 GRANDVIEW - Big changes are just around the corner for Jeremy Scroggins.
Come this Saturday, he'll marry the woman of his dreams, Ginger Bingham.
Come the fall, he'll take the helm of Grandview High School's football program.
Scroggins hales from Royal City, a town that didn't have a grid kid football program. He was introduced to the game in the seventh grade. He later went on to play at Whitworth College (now Whitworth University).
Though he's reluctant to talk about his football accolades, Scroggins did say he was named the Associated Press's Player of the Year in 2000 at the 1A level.
For three years, he coached at Whitworth. And, he adds, "I coached in Royal City every spring since I graduated in 2001."
The first year at Whitworth, Scroggins was an assistant coach for defensive backs and linebackers. By the second year, he was defensive coach.
Scroggins had heard via word of mouth that Grandview was in need of a coach.
"I'd heard a rumor about it opening," he said. "Then I looked it up on the internet."
Grandview wasn't the only community he was eyeballing to start his life with the soon-to-be Mrs. Scroggins.
But, he said, for the position in Grandview "everything just fell into place." Scroggins will also teach history at the high school.
Said Scroggins, "This is the pinnacle of my dreams, to be a head coach. To have this opportunity is a real blessing."
Scroggins was on hand last night, Monday, at Grandview High School to meet and greet the community and he was pleased with the turnout of about 40 kids and a significant amount of community members. That's important, he said.
"I was very pleased because (community excitement) is the first step," he said. "It's nice to see the community and kids are looking for leadership."
Simply put, he said, "They're excited."
So is Scroggins. In between last minute details for his impending nuptials, he's been watching video of Grandview football games, eyeballing offensive and defensive plays, analyzing where the kids are vulnerable.
Grandview's newly named athletic director, Scott Parrish, has been an instrumental part of making Scroggins feel welcome in the community.
"He and his family have opened up their home to me and just done everything they can to get me settled," said the soon-to-be newlywed. "And Scott Parrish has been wonderful to work with."
First up, Scroggins will tie the knot.
Then, on Aug. 20, he'll start football practice for Grandview High School's 2008 season.