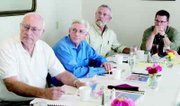 GRANDVIEW - Looking to drum up support for its Alive Downtown project, the Grandview City Council met with area lawmakers Monday night to state its case.
State representatives from the 15th District, Bruce Chandler and Dan Newhouse; 14th District Representative Charles Ross, Washington State Senator Jim Honeyford from the 15th District and State Senator Curtis King from the 14th District were told about the project over dinner.
The lawmakers learned the goal of the revitalization effort is to create a pedestrian friendly downtown which will encourage commerce for residents and visitors alike.
The city has received two grants already for the project. A $24,000 grant was awarded to Grandview from the U.S. Department of Housing and Urban Development and was used to develop a downtown development and design plan, which has been accepted by the Grandview City Council. A $20,000 grant from the U.S. Department of Agriculture is being used to develop building design guidelines.
By inviting lawmakers to learn about Grandview's project in detail, the council is hoping one or more will appropriate the money needed in the next state budget.
The cost of the downtown improvements will total approximately $3 million. Grandview Mayor Norm Childress told the lawmakers the city is willing to spend some of its own money as well. The city has $1 million in existing funds from the city's water-sewer fund. The rest of the money will need to come from grants.
"We got something we believe is really vital to our community," Grandview City Councilman Mike Bren told the legislators.
He said the project would be good for economic reasons but will also give Grandview citizens more reasons to have pride in their community.
Councilwoman Jan McDonald used Yakima's downtown revitalization project as an example, noting that the $8 million the city received in grants sparked $50 million in economic development.
City officials are hoping by appealing to state lawmakers for help people and avenues will be identified that can help move this project forward.
Grandview City Administrator Scott Staples told the legislators the project will help keep jobs in Grandview, will also help to create them and will promote investment in the downtown area.