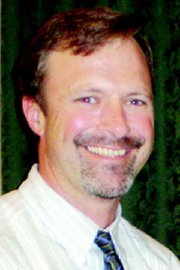 Following a suggestion from Sunnyside City Councilwoman Theresa Hancock, local businessman Jeff Barrom applied for, and was appointed to, the Sunnyside Planning Commission.
"(She) approached me and asked if I'd be willing to serve and I said yes," explained Barrom.
Hancock said she felt Barrom is suited for the position due to his involvement in the Sunnyside community.
"He's had really good involvement in economic development and has a good vision of what Sunnyside could look like," said Hancock.
"And he's a well-grounded, well-respected businessman in Sunnyside."
Hancock noted that Barrom's been very active in the Sunnyside community in the past with organizations like Sunnyside, Inc., the Sunnyside Chamber of Commerce and the Sunnyside Economic Development Association.
"He's very active and he has a good sense of community," Hancock said.
More importantly, she added, "He's energetic and willing to serve."
Among his responsibilities while he serves on the planning commission, she said, will be tackling annexation issues and updating the city's comprehensive plan.
Said Barrom, "I'm just excited to help plan and shape the future use of land in and around Sunnyside."