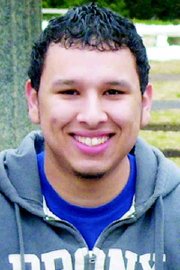 Ramon Mendez was the life of the party, a natural jokester, unabashedly making goofy faces just to coax a laugh out of others.
All of that came to an end this past Saturday, when Mendez, 23, passed away due to injuries sustained in a Thursday, July 10, motorcycle accident at Stover and Waneta Roads in Grandview.
Growing up, says his big brother Jose Montoya, "He was a very positive child, always making funny faces."
Mendez, he said, was the baby of the family.
"Ramon was a really funny guy, always cracking jokes and livening up the atmosphere."
But despite his fun loving nature, there was one thing Mendez took very seriously: education.
Mendez served as a substitute teacher for the Sunnyside School District while going to school at Heritage University. His ultimate goal was to get his Master's in education.
Said Montoya, "He talked to me about becoming a nationalized teacher so he could teach anywhere in the United States."
But Mendez's dream didn't stop at teaching. "He wanted to move up the chain of command in education, eventually working as a principal and superintendent."
Mendez, he said, had a passion for learning. One so strong that the charismatic teacher was able to connect with students, speaking to them on their level while encouraging them to learn, Montoya said.
In fact, as Mendez lay in Yakima Memorial Hospital following last week's accident, two former students were among his visitors.
"They were really shaken up," said Montoya.
Mendez's brother said that his injuries were significant because the strap of the DOT-sanctioned helmet he was wearing while riding the motorcycle broke. "(It) broke right off and the helmet just flew off," he said. "It should have saved his life and it just didn't, it cracked. We still have the helmet, it's just shot."
One thing about Mendez's death that has the family upset is what they consider to be scrutiny in the press regarding whether or not alcohol or drugs played a factor in the Thursday accident.
Montoya emphasized that Mendez's toxicology results came back clean and his little brother was staunchly against drinking and driving.
"He never drank and drove. He was a great example for us in that he was totally against that."
After the doctor at the hospital explained the severity of Mendez's brain injuries, he broached the subject of organ donation with Mendez's family.
Mendez, said Montoya, had made it clear on his driver's license that he wanted to be an organ donor.
Because of that, said Montoya, "Twelve people are going to be alive because of my little brother."
Mendez's funeral is slated for tomorrow, Thursday, July 17, at 10 a.m. at Smith Funeral Home. His viewing and visitation takes place today until 8 p.m.
Mendez leaves behind his parents, Pedro and Ernestina Gama of Sunnyside, two sisters, two brothers and his longtime love, Marissa Aguilar of Grandview.
His family has created a web-page in honor of him, which can be viewed at www.myspace.com/ramon_mendez. Memories may also be shared at www.funeralhomesmith.com.
The family is currently in talks about the best way to honor Mendez. One goal is to create a scholarship in Mendez's honor.
But they plan on honoring the natural jokester by laughing, too, when they go see one of Mendez's favorite comedians: George Lopez.
And when they do go, they'll leave one seat empty in honor of the baby of the family.