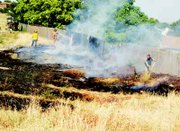 Sunnyside firefighters were called to the 400 block of Merrick Avenue at 4:49 p.m. yesterday, Wednesday, for a report of a grass fire.
Sunnyside Deputy Fire Chief Lloyd Hazzard said there were reports of children playing in the area before the fire started and the cause of the blaze is under investigation.
A wood fence was damaged in the fire.
Since Tuesday, July 15, firefighters have answered 10 aid calls, transporting four patients to the hospital. Firefighters also made nine transports.