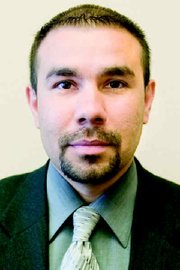 After spending nearly his whole life in the Sunnyside area, Francisco Guerrero will now help plan the direction of the city.
Guerrero was recently named to the Sunnyside Planning Commission.
He is a 1995 graduate of Sunnyside High School and received his college education from YVCC in Grandview and Heritage University.
Guerrero is currently a financial center manager at HAPO Community Credit Union in Sunnyside.
The idea of applying for the planning commission came about after talks with Sunnyside City Councilman Tom Gehlen and Sunnyside Mayor Paul Garcia.
"I had heard about the commission position at a city council meeting," Guerrero said.
Both Gehlen and Garcia told Guerrero it would be a good opportunity and possibly help with a run at city council later on down the line.
He said it was brought up to him as a stepping stone and Guerrero admitted he would like to make a difference in the community.
So Guerrero applied and submitted his references and will now help plan the future of Sunnyside.
"I feel privileged, obviously," he said. "I've been in the community for quite sometime. I will be coming in with a clear mind and brand new set of eyes."
He added he thought he will be able to look at things with a different perspective.
Guerrero doesn't have an agenda coming into the commission. He wants to absorb it all in and see what is the best for the whole community, not just one section.
He said his goals are to help create more employment. This in turn, he said, will create more income, which will create more housing.