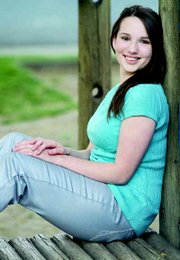 When LeAnn Lopez takes the stage at the Miss Sunnyside Pageant, she'll likely gulp back her shyness and press on, just to show youngsters that, in her words, "If you believe in yourself, anything can happen."
Actually, Lopez's shyness breaks to the surface more in one-on-one interactions than on the stage. She's been a dancer for almost as long as she can remember.
For eight years, she attended Martin's School of Dance in Sunnyside. This past year, her writing talent earned her a scholarship to the Tri-Cities Academy of Ballet.
Dancing, she says, is a form of release, a way to let go of everything that's bothering her. And, she said, "It's a way to express yourself when there's no other way to do so."
Should she be chosen as Miss Sunnyside, Lopez expects to sideline the dancing for the 2008-09 reign. But that won't stop her from volunteering to assist Linda Martin at the Martin School of Dance.
Lopez said another reason she wants to try out for the Miss Sunnyside court is to raise awareness about foster care.
"Foster care holds a special place in my heart because a very close family member of mine was a foster parent and ended up adopting two (children)."
Should she be selected as Miss Sunnyside, Lopez's community service project for the year will benefit the Department of Children and Family Services.
"We'll be collecting clothes, school supplies, Christmas presents and toys.
"I want our community to be aware that we do have foster children and that they need help," she said.
It makes sense that the longtime dancer has selected that venue to display her talent during the Miss Sunnyside Pageant. Lopez will combine contemporary dance with ballet to express herself during the talent portion.
"I've danced for the past eight years and it's the one thing that makes me the happiest," she said. "I'd like to share that with people."
Following graduation, Lopez said she'll attend either University of Washington, Washington State University or Central Washington University, where she'll minor in dance and major in English, currently one of her favorite subjects at Sunnyside High School.
Gabriel Darvison, one of her ninth grade teachers, inspired Lopez to mull a career teaching English.
Eventually, she'll either work in publishing or teach English, she said.
Lopez is an avid reader, reading between 10 to 15 books a month. Among her favorites is World War II stories.
"I love to read. It's one of my greatest hobbies. I'm a big bookworm," she said.
Lopez also loves science. "My brother Joaquin influenced me on that by making me watch the science channel," she joked.
Dancing, she said, is the only sport she's ever known and it keeps her busy. Especially this past year, traveling to the Tri-Cities Academy of Ballet.
Lopez, the daughter of Javier and Susan Lopez, is the baby of the family and little sister to Deana, 32, Javier, 29, Katie, 25, Tina, 23, and Joaquin, 19.
Her sponsors for the Miss Sunnyside Pageant are Audel's Fashion and Music, State Farm's Gary Nordberg, Bieber Bros. and Moses and Maria Hernandez.
. Lynda Jo Gross can be contacted at (509) 837-4500, or e-mail LGross@eaglenewspapers.com