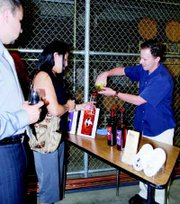 GRANDVIEW- Members of the Grandview, Prosser and Sunnyside chambers of commerce were afforded entertainment, door prizes, local cuisine and wine from incubator wineries at Yakima Valley Community College's Viticulture Center last night, Thursday.
The event also afforded chamber members from the three cities a tour of the center.
The monthly gathering is designed to develop networking ties and allow members from the chambers to build business relationships, while promoting businesses from the three communities.