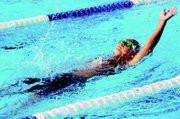 GRANDVIEW - The Grandview Neptunes lost 511-226 to the visiting Pirahnas last night in their home pool.
The score, however, was an improvement over the June 26 defeat of 607-167.
Grandview's first win of the evening was that of the Grandview girls 14&U 160-yard medley relay team, consisting of Jessica Hall, Jenalee Mariotti, Jessica Morales and Tiffany Owen.
Neptune girls 14&U competitor Tiffany Owen earned the first victory in individual competition. She finished the 40-yard butterfly in 26.29, nearly three seconds ahead of teammate and runner-up Jessica Hall, who clocked 29.14. Owen earned runner-up honors in the 40-yard freestyle, clocking 24.75 behind Pirahna Hailey Rankin.
Neptune 14&U boys swimmers Fabian Ruiz and Jared Churchill edged Prosser's Nolan Saam in both the 40-yard backstroke. Ruiz earned the win with a time of 30.57 and Churchill was three hundredths of a second behind with a time of 30.60. Saam's time was 31.03.
Ruiz and Churchill continued earning points for Grandview throughout the meet. Ruiz finished first in the 40-yard freestyle, clocking 21.75. He beat out Saam, who finished with a time of 22.62, and Churchill earned fourth place honors in the event. Churchill also earned third place honors in the 40-yard butterfly and Ruiz placed third in the 40-yard breaststroke.
Aliyah Graham of the Neptunes earned a win in the girls 10&U 40-yard breaststroke, clocking 39.16.
Grandview's Micah Binfet earned top honors in the boys 10&U breaststroke, clocking a time of 34.44. He also placed third in the butterfly with at time of 40.75.
In the boys 8&U, Westly Lakin remained consistent throughout the evening, winning each of his four individual events, the butterfly, backstroke, breaststroke and the freestyle.
In the girls 12&U backstroke, Grandview's Tiana Perez earned the victory with a time of 32.09, with teammate Breanna Lopez behind her in mere tenths of a second, clocking 32.81.
Neptunes boys 18&U competitor Matt Concienne earned runner-up honors to Prosser's Tyler Burgett in the 40-yard backstroke. Burgett edged Concienne by little more than a second.
Grandview competes again in its home pool against Wapato next Tuesday, July 22. The meet will count as a double scoring meet in an effort to make up for the two team's July 1 meet, which was canceled due to the Wild River Foods fire in Grandview.
Prosser 511
Grandview 226
160-Yard MEDLEY RELAY
Girls 10&U
1st-Prosser (Haley Clark, Hanna Clark, Maria Mullen, Jamei Fassler) 2:59.21
Boys 10&U
No event
Girls 12&U
1st-Prosser (Gabby Villarreal, Karli Lusk, Josie Fool) 2:14.15
Boys 12&U
1st-Prosser (S. Kawakami, W. Burgett, T. Hobbick, T. Gant) 1:59.75
Girls 14&U
1st-Grandview (Jessica Hall, Jenalee Mariotti, Jessica Morales, Tiffany Owen) 2:06.25
Boys 14&U
1st-Prosser (N. Saam, J. Clark, J. Wildman, C. Baker) 1:58.87
Girls 18&U
1st-Prosser (H. Rankin, R. Watkins, M. Elliott, E. Taylor) 1:48.10
Boys 18&U
1st-Prosser (T. Burgett, B. Hobick, C. McKinney, A. Miller) 1:41.84
40-Yard BUTTERFLY
Girls 8&U
1st -Leah Blakney (P) 43.70, 2nd- Kylie Colson (G) 55.09, 3rd -Hazel Edwards (P) 55.47, 4th -Cassandra Ruiz (G) 58.93
Boys 8&U
1st -Westly Lakins (G) 55.33
Girls 10&U
1st-Annie Brouwer (P) 33.69, 2nd-Aliyah Graham (G) 38.10, 3rd-J. Hamilton (P) 38.60, 4th-Reagan Colson (G) 41.77
Boys 10&U
1st-Scott Blakney (P) 34.21, 2nd-Levia Russell (P) 39.75, 3rd- Micah Binfet (G) 40.75, 4th-Camden Baker (P) 53.40
Girls 12&U
1st-M. Forsyth (P) 29.90, 2nd-Kate Burnett (P) 30.50, 3rd-Danielle McKeirnan (P) 31.03, 4th- Gabby Villarreal (P) 31.32
Boys 12&U
1st-Ty Hobbick (P) 24.22, 2nd-William Burgett (P) 26.66, 3rd- Jose Castilleja (G) 26.72, 4th-Taylor Gant (P) 30.97
Girls 14&U
1st- Tiffany Owen (G) 26.29, 2nd-Jessica Hall (G) 29.14, 3rd- Hailey Rankin (P) 29.50, 4th-Brenna Cherry (P) 31.10
Boys 14&U
1st-James Wildman (P) 26.46, 2nd-Nolan Saam (P) 26.59, 3rd- Jared Churchill (G) 27.44, 4th-Chase Baker (P) 29.28
Girls 16&U
1st-McKenna Elliott (P) 23.56, 2nd- Hanna Rankin (P) 25.22, 3rd-Tara Esparza (P) 35.37
Boys 16&U
1st-Chris McKinney (P) 21.21, 2nd-Branden Hobbick (P) 21.74, 3rd-Spencer Blanshan (G) 22.78, 4th-Ryan Contreras (G) 22.91
Girls 18&U
1st-Ruthie Watkins (P) 23.03, 2nd-Haley Saam (P) 28.71, 3rd-Danyel Stuber (G) 32.72
Boys 18&U
No event
40-Yard BREASTSTROKE
Girls 8&U
1st-Leah Blakney (P) 40.84, 2nd-Kylie Colson (G) 44.47, 3rd-Madison Diener (G) 51.28, 4th-Hazel Edwards (P) 51.47
Boys 8&U
1st-Westly Lakins (G) 55.50
Girls 10&U
1st-Aliyah Graham (G) 39.16, 2nd- Annie Brouwer (P) 41.66, 3rd-Kaylee Perkins (P) 42.36, 4th-Reagan Colson (G) 42.97
Boys 10&U
1st-Micah Binfet (G) 34.44, 2nd- Scott Blakney (P) 38.75, 3rd-Camden Baker (P) 50.09, 4th-Maurice Prieto (G) 50.28
Girls 12&U
1st-2nd-Kate Burnett (P) 34.34, 2nd- Taylor Hall (G) 34.47, 3rd-Veronica Lopez (G) 35.09, 4th-Karli Lusk (P) 37.90
Boys 12&U
1st-William Burgett (P) 29.65, 2nd-Ty Hobbick (P) 29.71, 3rd- Jose Castilleja (G) 33.21, 4th- Taylor Gant (P) 33.62
Girls 14&U
1st- Hailey Rankin (P) 30.78, 2nd-Tiffany Owen (G) 31.59, 3rd-Brenna Cherry (P) 35.77, 4th-Tawnya Francis (G) 36.07
Boys 14&U
1st-Nolan Saam (P) 27.03, 2nd-James Wildman (P) 29.37, 3rd-Fabian Ruiz (G) 31.19, 4th- Chase Baker (P) 31.75
Girls 16&U
1st-McKenna Elliott (P) 30.32, 2nd-Hanna Rankin (P) 36.47, 3rd-Tara Esparza (P) 42.47
Boys 16&U
1st-Chris McKinney (P) 26.78, 2nd-Branden Hobbick (P) 27.52, 3rd- Charles McClammer (P) 30.52
Girls 18&U
1st-Ruthie Watkins (P) 30.03, 2nd-Hayley Saam (P) 35.34, 3rd-Danyel Stuber (G) 37.38
Boys 18&U
1st-Tyler Burgett (P) 25.84
40-Yard BACKSTROKE
Girls 8&U
1st-Leah Blakney (P) 40.22, 2nd- Hazel Edwards (P) 42.55, 3rd-Madison Diener (G) 48.65, 4th-Marin Bender (P) 53.13
Boys 8&U
No event
Girls 10&U
1st-Jaiden Hamilton (P) 35.53, 2nd-Annie Brouwer (P) 38.61, 3rd-Jennifer Castaneda (G) 40.06, 4th-Elizabeth Thornbrugh (P) 40.15
Boys 10&U
1st-Scott Blakney (P) 38.53, Levi Russell (P) 44.31, 3rd-Micah Binfet (G) 45.47, 4th-Maurice Prieto (G) 47.44
Girls 12&U
1st-Tiana Perez (G) 32.09, 2nd-Breanna Lopez (G) 32.81, 3rd-Kate Burnett (P) 34.77, 4th-Gabby Villarreal (P) 34.98
Boys 12&U
1st-Ty Hobbick (P) 26.81, 2nd-Sam Kawakami (P) 32.60, 3rd- William Burgett (P) 33.02, 4th-Taylor Gant (P) 35.34
Girls 14&U
1st- Hailey Rankin (P) 29.08, 2nd- Brenna Cherry (P) 30.72, 3rd-Tiffany Owen (G) 31.94, 4th-Jessica Hall (G) 33.75
Boys 14&U
1st-Fabian Ruiz (G) 30.57, 2nd-Jared Churchill (G) 30.60, 3rd-Nolan Saam (P) 31.03, 4th-Eric Escobar (G) 34.99
Girls 16&U
1st-Hanna Rankin (P) 26.91, 2nd-Ely Taylor (P) 29.59, 3rd-GO Gomez (G) 33.75, 4th-Tara Esparza (P) 44.38
Boys 16&U
1st-Chris McKinney (P) 25.12, 2nd- Branden Hobbick (P) 25.22, 3rd-Spencer Blanshan (G) 25.50, 4th- Ryan Contreras (G) 26.21
Girls 18&U
1st-Ruthie Watkins (P) 28.25, 2nd-Hayley Saam (P) 32.86, 3rd-Danyel Stuber (G) 38.43
Boys 18&U
1st-Tyler Burgett (P) 24.50, 2nd-Matt Concienne (G) 25.62
40-Yard FREESTYLE
Girls 8&U
1st-Leah Blakney (P) 30.40, 2nd-Madison Diener (G) 40.63, 3rd-Hazel Edwards (P) 40.65, 4th-Anna Stutzman (P) 43.37
Boys 8&U
1st-Westly Lakins (G) 48.84, 2nd-Angel Morales (G) 58.16
Girls 10&U
1st- Annie Brouwer (P) 26.43, 2nd- Jaiden Hamilton (P) 26.47, 3rd-Aliyah Graham (G) 31.50, 4th-Natalee Oxley (G) 32.78
Boys 10&U
1st-Scott Blakney (P) 28.22, 2nd-Micah Binfet (G) 31.80, 3rd-Levi Russell (P) 33.47, 4th- Camden Baker (P) 33.60
Girls 12&U
1st-Karlie Lusk (P) 25.96, 2nd- Gabby Villarreal (P) 26.23, 3rd- Tiana Perez (G) 26.86, 4th-Kate Burnett (P) 27.86
Boys 12&U
1st- Jose Castilleja (G) 22.75, 2nd- William Burgett (P) 22.86, 3rd-Ty Hobbick (P) 23.06, 4th-Sam Kawakami (P) 25.40
Girls 14&U
1st- Hailey Rankin (P) 24.03, 2nd- Tiffany Owens (G) 24.75, 3rd-Brenna Cherry (P) 25.86, 4th-Jenalee Mariotti (G) 26.04
Boys 14&U
1st-Fabian Ruiz (G) 21.75, Nolan Saam (P) 22.62, 3rd-James Wildman (P) 23.27, 4th-Jared Churchill (G) 24.94
Girls 16&U
1st-GO Gomez (G) 22.56, 2nd-Hanna Rankin (P) 23.50, 3rd-Tara Esparza (P) 27.87
Boys 16&U
1st-Chris McKinney (P) 19.41, 2nd-Branden Hobbick (P) 20.02, 3rd-Ryan Contreras (G) 20.20, 4th--Spencer Blanshan (G) 22.21
Girls 18&U
1st-Ruthie Watkins (P) 23.59, 2nd-Ely Taylor (P) 23.70, 3rd-Danyel Stuber (G) 28.59
Boys 18&U
1st-Tyler Burgett (P) 19.81, 2nd-Matt Concienne (G) 20.58
160-Yard FREESTYLE RELAY
Girls 10&U
1st-Prosser (B. Smith, J. Hamilton, K. Perkins, A. Brouwer) 2:13.66
Boys 10&U
1st-Grandview (B. Harris, M. Prieto, J. Fleming, M. Binfet) 2:47.63
Girls 12&U
1st-Prosser (K. Burnett, K. Lusk, G. Villarreal, J. Fool) 1:57.84
Boys 12&U
1st-Prosser (W. Burgett, T. Gant, S. Kawakami, T. Hobbick) 1:45.96
Girls 14&U
1st-Grandview (J. Mariotti, J. Hall, J. Morales, T. Owen) 1:51.69
Boys 14&U
1st-Prosser (J. Wildman, N. Saam, J. Clark, C. Baker) 1:42.96
Girls 18&U
1st-Prosser (B. Cherry, Hanna Rankin, Hailey Rankin, T. Esparza) 1:46.38
Boys 18&U
1st-Prosser (B. Hobbick, C. McKinney, T. Burgett, W. Burgett) 1:25.90
160-Yard INDIVIDUAL MEDLEY
Girls 10&U
1st-Leah Blakney (P) 2:54.87, 2nd-Annie Brouwer (P) 3:00.80, 3rd-Brittney Smith (P) 3:28.93, 4th- Kassandra Martinez (G) 3:35.12
Boys 10&U
1st-Scott Blakney (P) 2:50.81, Micah Binfet (G) 3:07.94, 3rd-Maurice Prieto (G) 3:52.44, 4th-Riley Harris (G) 4:28.90
Girls 12&U
1st-Rylee Suhadolnik (P) 2:37.35, 2nd- Tiana Perez (G) 2:38.34, 3rd-Kate Burnett (P) 2:40.91, 4th-Madison Zimmermann (P) 2:49.99
Boys 12&U
1st- Sam Kawakami (P) 2:30.44, 2nd-Taylor Gant (P) 2:34.19, 3rd- Jose Castilleja (G) 2:40.43, 4th-Eric Blakney (P) 2:48.40
Girls 14&U
1st- Hailey Rankin (P) 2:11.09, Tiffany Owen (G) 2:25.79, 3rd-Brenna Cherry (P) 2:31.83, 4th-M. Forsyth (P) 2:41.56
Boys 14&U
1st-Jared Churchill (G) 1:59.18, 2nd-Fabian Ruiz (G) 2:21.94, 3rd-Nolan Saam (P) 2:22.03, 4th-James Wildman (P) 2:26.49
Girls 16&U
1st-Hanna Rankin (P) 2:28.46, 2nd-Tara Esparza (P) 3:06.62
Boys 16&U
1st-Chris McKinney (P) 1:57.80, 2nd-Branden Hobbick (P) 1:58.28, 3rd-Ryan Contreras (G) 2:12.25, 4th-Spencer Blanshan (G) 2:46.17
Girls 18&U
1st-Hailey Saam (P) 2:37.50, 2nd-Danyel Stuber (G) 2:56.09
Boys 18&U
1st-Tyler Burgett (P) 1:52.42, 2nd-Anthony Kim (P) 1:59.41, 3rd-Tommy Contreras (P) 2:15.06, 4th-Keagan Christensen (G) 2:23.23