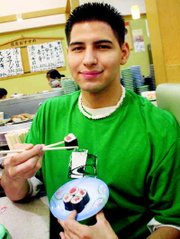 Good food, shopping and meeting beautiful women from all around the world are some of the things Jose Ramos will miss most now that he's back home in Sunnyside after a stint in the U.S. Navy.
A 2006 Sunnyside High School graduate, Ramos spent most of the last two years stationed at Naval Air Facility Atsugi in Japan. The base, just 25 miles south of Tokyo, was a launching pad for Ramos in his world travels.
He was attached to VFA 195 Squadron at the base and when his unit would go out on deployment his ship was the U.S.S. Kittyhawk, the oldest aircraft carrier in the United State's arsenal.
Ship life was okay, Ramos said, but one time he spent 57 days on the water.
"That's two months," he said in disbelief.
Although long periods at sea didn't sit well with Ramos life in Japan did.
"Japan was awesome, I'm going to miss it," he said. "I'm seriously thinking about going back to live as a civilian."
His Japanese is limited and Ramos knows that is a barrier, but he said the people in Japan on the best.
He told the story about when he lost his wallet at the train station. A while later a man returned the wallet to the front gate at his base.
"Everything was in there," he recalled. "My cash, credit cards and ID. I wish I could have thanked him."
The food in Japan also won him over. Ramos soon got hooked on sushi, noodles and rice. Japan, known for being an expensive place to live and visit, has cheap sushi, Ramos said.
"That's the only thing that's cheap in Japan," he added.
Ramos was also able to assimilate into Japan culture through the game of soccer. He met a Japanese man one day who spoke a little bit of Spanish and was soon playing on his soccer team.
"I was surprised how many Japanese can speak Spanish," he said.
During his time in Japan Ramos was able to visit several countries, including Australia, Malaysia, Singapore and Guam. He was also able to visit Hong Kong and the state of Hawaii.
An injury Ramos suffered ended his enlistment two years early. Ramos explained his injury would have forced the Navy to retrain him and Uncle Sam didn't want to do that.
"They're (the Navy) downsizing now," he said.
Ramos said he is going to try and get back into the Navy, but barring that, he will attempt to join the U.S. Air Force.